What is a Shepherd's Pie?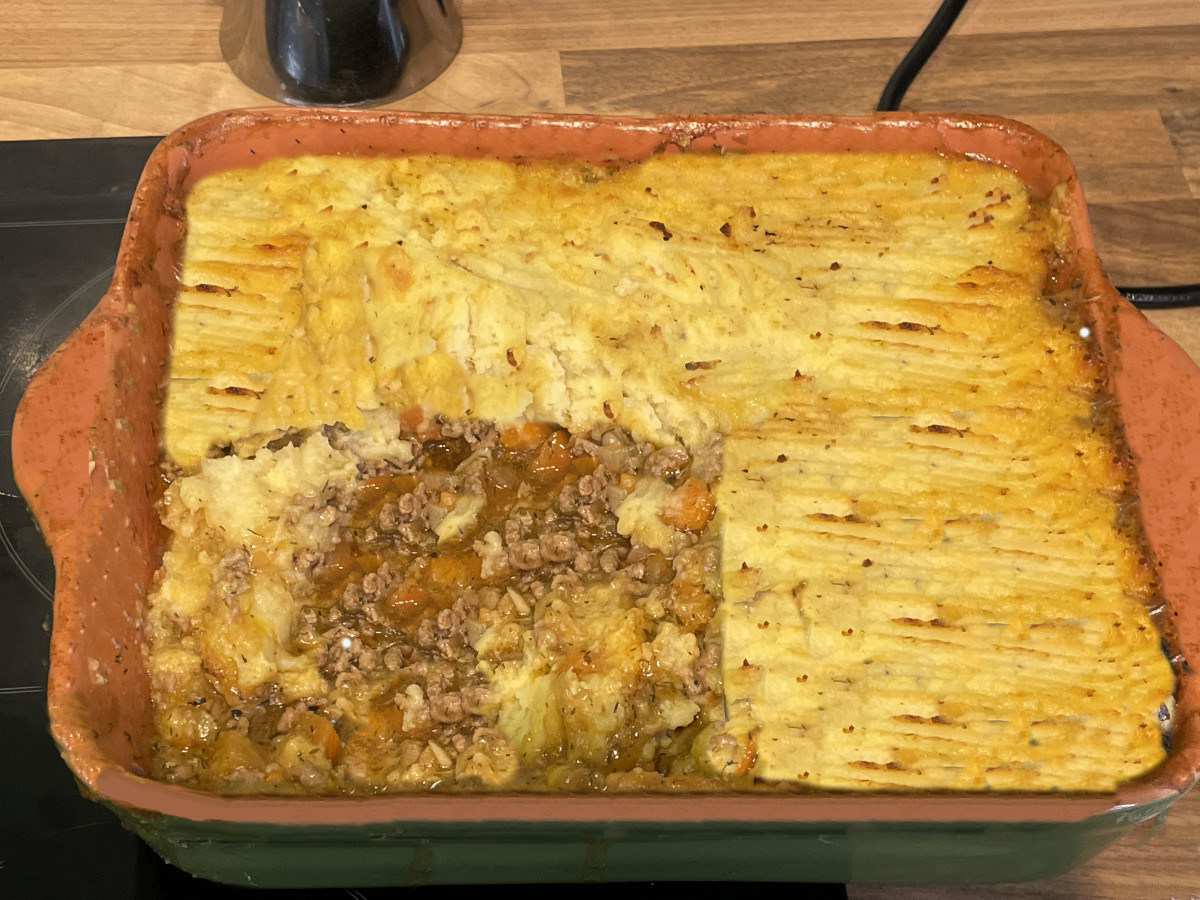 Shepherd's Pie is a comforting and flavorful dish that has been enjoyed by generations around the world. This blog post will explore the history of Shepherd's Pie, its variations across different cultures, and provide some mouthwatering recipes for you to try at home. It is a lovely winter comfort food, easy to make and quite nourishing.
Variations of Shepherd's Pie:
a. Cottage Pie: This variation uses ground beef instead of lamb, making it equally delicious. The rest of the recipe remains the same.
b.Sweet Potato Shepherd's Pie: Swap the regular mashed potatoes for creamy and slightly sweet mashed sweet potatoes. This adds a delightful twist to the classic dish.
Shepherd's Pie Around the World: While the traditional Shepherd's Pie hails from the UK and Ireland, similar dishes can be found in various cuisines worldwide. For example:
In the United States, a similar dish known as "Hamburger Pie" is made with ground beef and mashed potatoes.
In Australia and New Zealand, a comparable dish called "Cottage Pie" is made with ground beef and often includes a layer of cheese on top.
In India, "Kheema Pav" is a popular street food that features spiced minced meat served with buttered bread rolls, resembling the concept of Shepherd's Pie.
Shepherd's Pie is a versatile and satisfying dish with a rich history and numerous variations across cultures. Whether you stick to the traditional recipe or explore new flavors, Shepherd's will warm your heart and delight your taste buds. Enjoy experimenting with different ingredients and making this comforting classic your own!
Shepherd's Pie has its roots in the United Kingdom and Ireland, where it was initially created as a practical way to use up leftover roasted meat, particularly lamb. The term "shepherd" in the name refers to the use of lamb, while "pie" denotes the dish's traditional form, typically consisting of a meat and vegetable filling topped with mashed potatoes and baked until golden.
Traditional Shepherd's Pie Recipe: Ingredients:
1 pound ground lamb (or beef for a Cottage Pie variation)
1 onion, finely chopped
2 carrots, diced
2 cloves of garlic, minced
1 cup frozen peas
2 tablespoons tomato paste
1 cup beef or vegetable broth
1 tablespoon Worcestershire sauce
2 tablespoons chopped fresh herbs (such as rosemary or thyme)
Salt and pepper to taste
4 cups mashed potatoes
Instructions:
a. Preheat your oven to 375°F (190°C).
b. In a large skillet, brown the ground lamb or beef over medium heat. Once cooked, remove any excess fat.
c. Add the onion, carrots, and garlic to the skillet, and sauté until the vegetables have softened.
d. Stir in the tomato paste, frozen peas, broth, Worcestershire sauce, and fresh herbs. Season with salt and pepper.
e. Allow the mixture to simmer for about 10 minutes until the flavors meld together.
f. Transfer the meat and vegetable mixture to a baking dish and spread the mashed potatoes evenly over the top.
g. Use a fork to create a decorative pattern on the mashed potatoes, and then bake in the preheated oven for approximately 25-30 minutes or until the potatoes are golden and the filling is bubbling.
h. Let it cool for a few minutes before serving.
Cottage Pie & Shepherds Pie
So we are all on the same page, Shepherd's Pie contains Lamb. Cottage Pie contains beef.
They are essentially the same recipe whichever meat you use.
I see recipes that contain beef, turkey, chicken and pulled pork. I'm sorry to be a purist, but the clue is in the name. Shepherds look after sheep.
And please don't get me started on Shepherdless or Shepherdess Pie. Again, the clue is in the name of the website. You won't ever be seeing vegetarian recipes here. And if you want to be offended by that, go right ahead. You have rights. My right is to write about meat.
Recipes
There are thousands of recipes for Shepherd's Pie and thousands of opinions as to what is the correct, historically pure version. Well, the bad news is, there is no such thing. This is traditionally an improvised dish, to use up leftover lamb from the Sunday roast.
In the days before refrigeration, people bought larger joints of meat that would hold better after cooking without needing a fridge. At some stage the leftover lamb would be minced and made into a pie and there you have the genesis of our dish.
These days, most recipes call for minced, fresh lamb, bought from your craft butcher, and that makes sense because most households don't have a mincer. Blenders and food processers churn meat into mush, losing the rustic texture, and all of the mouthfeel of ground lamb, or beef.
The thing is, a recipe is just a guideline, a starting point for making a meal. I make lots of recipes and if I don't have everything in the list, I improvise and substitute.
My recent Youtube video Classic Steak & Kidney Pie – YouTube for Steak and Kidney Pie is my own adaptation of a classic recipe. I use Guinness as well as beef stock to give a more earthy flavour. One of my dinner guests, who is not shy about criticising food, declared it to be "epic".
Thanks, I'll take that.
I used brisket diced for the flavour, but it needs long, slow cooking to tenderise. I used  lamb kidney instead of beef because the beef kidney can overpower the pie. Hey, if celebrity and Michelin starred chefs can tinker with recipes, so can the rest of us.
So I'm going to make a Shepherd's Pie and record it on video. I will get comments to the website and Youtube about the inauthenticity of my pie. That's fine. If someone is not happy, it is not obligatory to follow my recipe. Make your own. Put whatever you like in it. Make a video and post it on Youtube. If someone likes it, they'll make it.
My recipe is what I like to eat, and as a butcher with 40+ years experience, I know a thing or two about meat and I know what I like.
So that's the rant over, let's get down to the Shepherd's pie.
For best results
Points worth keeping in mind:
Use the best quality lamb you can buy. Your local craft butcher is the go-to for this.
Don't use 100% lean meat. You will be denying yourself a flavour treat.
Use Maris Piper potatoes. They are great for mashing.
Use a good stock. Ideally one you made yourself.
Use fresh herbs where possible.
Don't adhere slavishly to a recipe. Use what you have and like.
When you find a set of ingredients that work for you, write them down.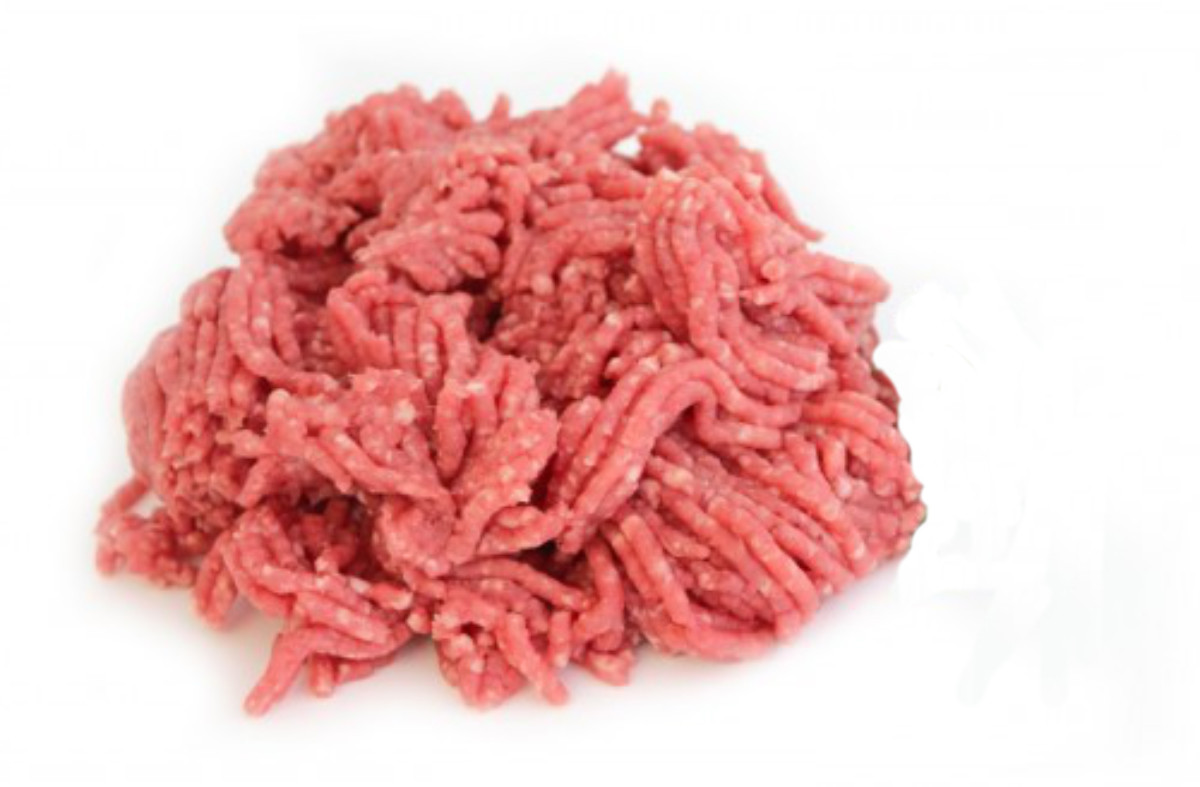 Ingredients
1 tbsp Olive oil
1 onion, finely chopped
2 Carrots finely diced
12 button mushrooms finely chopped
25g flour
450ml stock and leftover gravy
1 tsp tomato purée
1 tbsp chopped parsley
1 tsp thyme leaves, chopped
Salt
pepper
450g minced lamb
900g cooked mashed potatoes
50g Cheddar, grated
1 egg
Garlic butter (optional)
A few drops of Worcestershire sauce ( for that umami kick )
Method
Melt the butter, add the onion, diced carrots and mushrooms and cook over a slow heat for 5 minutes. Add the flour and cook until brown.
Add the Worcester Sauce.
Add the stock, bring to the boil. Add the tomato purée, chopped parsley, thyme leaves, salt and pepper and simmer for 5 minutes.
Fry the lamb until browned, add to the sauce, bring to the boil. Taste and correct seasoning.
Mash the potatoes after boiling for 10 minutes, add the egg and some butter, mash again.
Put in a pie dish, cover with the mashed potatoes, and score with a fork. Sprinkle over the cheese and dot with garlic butter.
Place in a preheated oven at 180ºC for about 30 minutes until hot and bubbling. Garnish with parsley and serve with extra garlic butter melting into the potatoes.
You can, if so inclined add some tomato ketchup to the sauce mix, to bring a touch of sweetness, but I leave that to you.
If this recipe, or your variant of it, is a success, claim it as your own.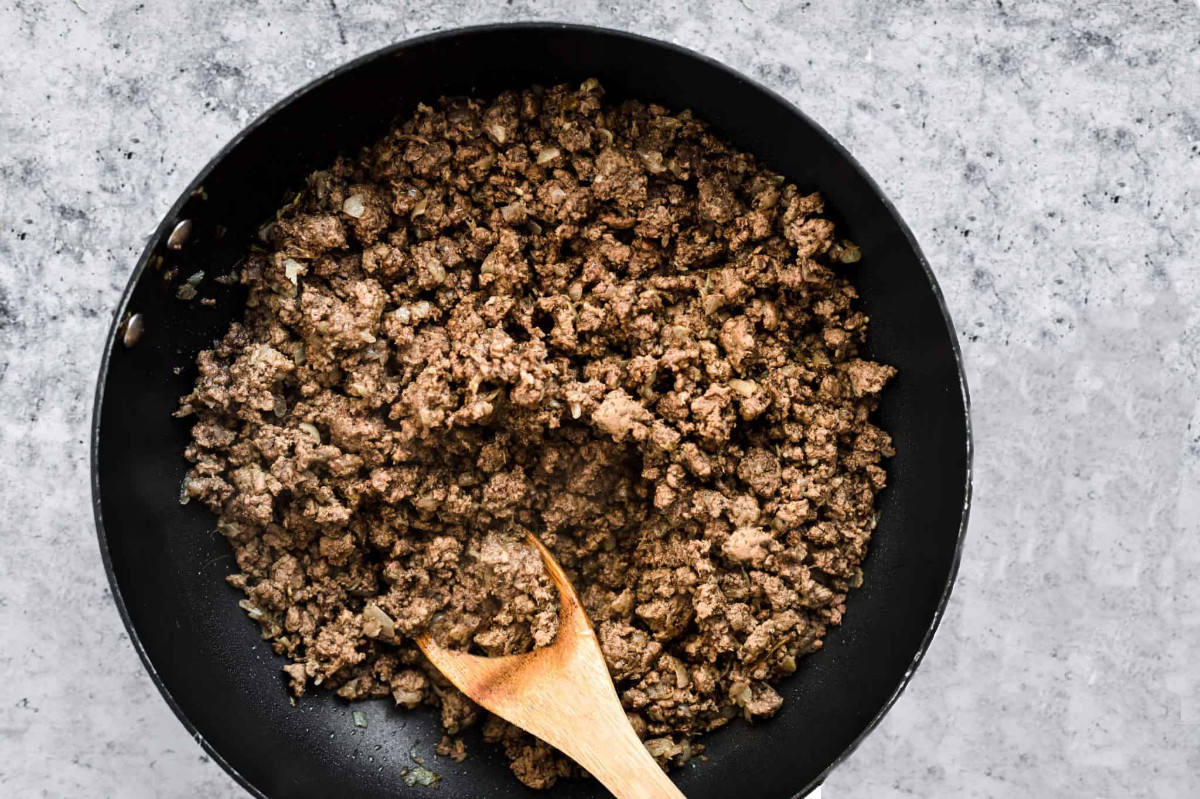 Celebrity Chefs
Nigel Slater has a great recipe for this Pie, and has a very relaxed approach to quantities and ingredients. I love that attitude. Cooking should be fun, not some sort of inspection of someone's culinary abilities. Try things out. If they work, keep them in. If they don't, try something else. It's about cooking nice food, not a competition
Darina Allen mentions adding grated cheese to the potato and using small dots of garlic butter on the potato while cooking. Darina likes to keep food as simple and as local as possible
Felicity Cloake in the Guardian agrees about having some fat in the meat and is quite specific about what meat is in a Shepherd's Pie.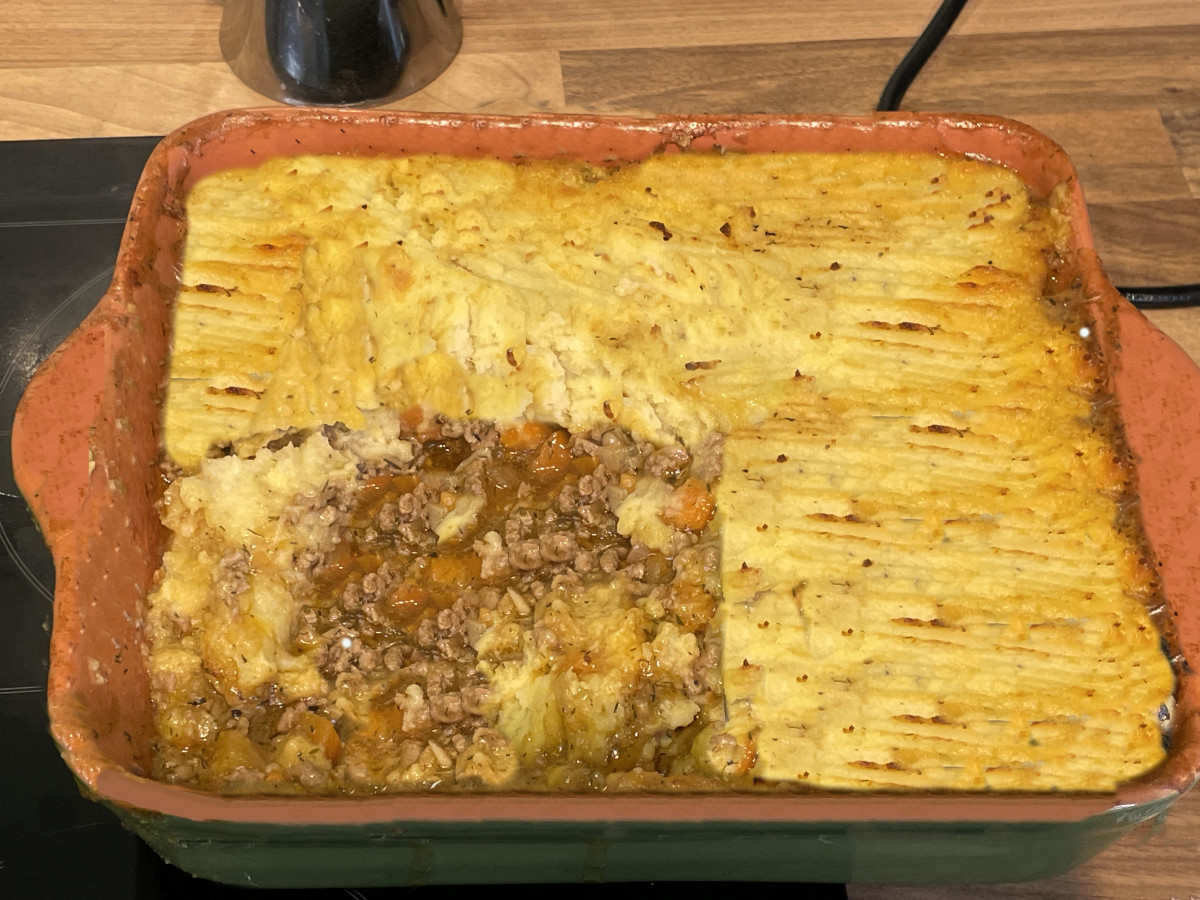 The Last Word
The important ingredients to a good shepherd's pie are tasty gravy, good lamb with some fat and fluffy mashed potatoes – the rest can be improvised.
Food is to be enjoyed – cooking shouldn't be a chore. Use your imagination and try different ingredients.