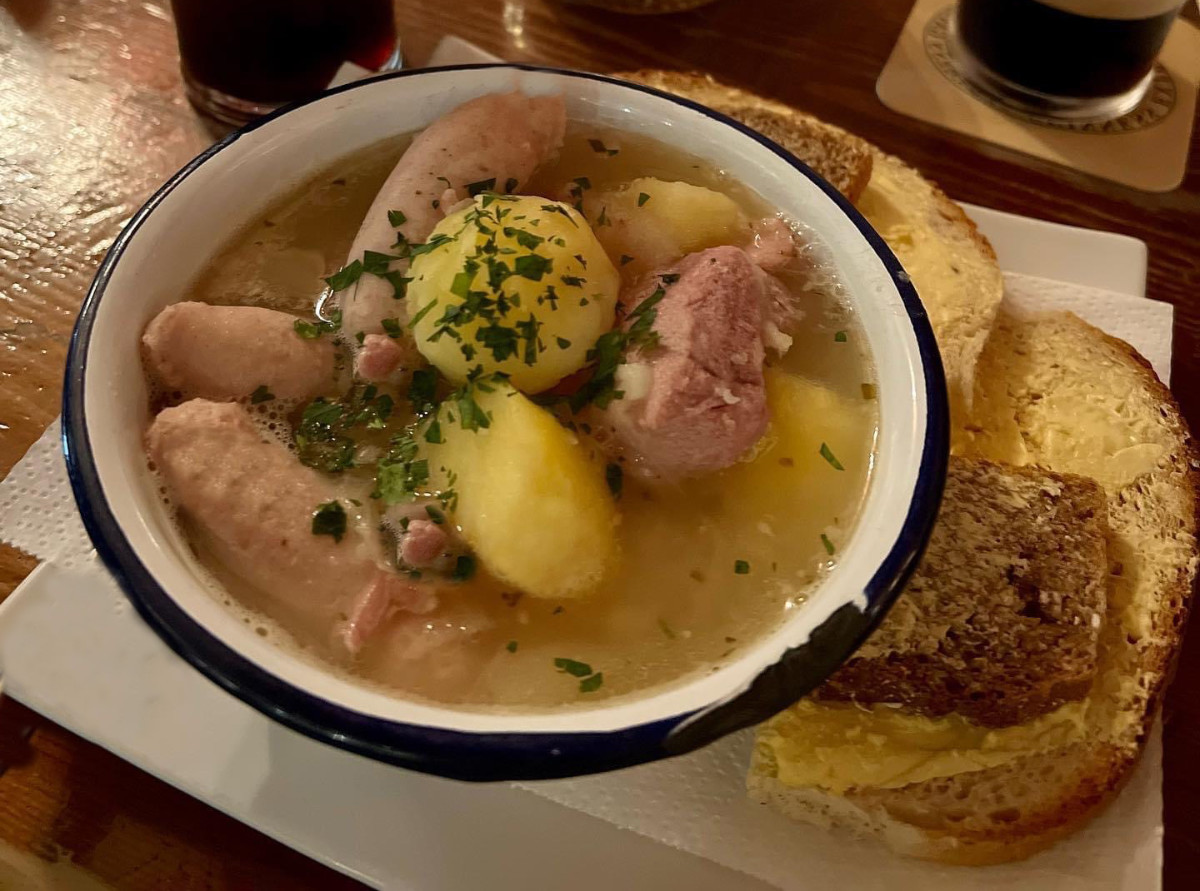 What is Dublin Coddle?
If you are not Irish or are not from Dublin, chances are that you have never heard of Coddle.
Coddle, or Dublin Coddle, is a dish made with bacon, pork sausage, potatoes and onions.
You can get into so many different arguments in Dublin about Coddle: the proper ingredients, the history of it, the one true recipe, where and when it started, and so on.
And you know something? It's all nonsense. Coddle is and was a dish where you use up whatever you had in the kitchen to make a hearty stew on a budget.
There is no one true recipe. Like most stews, every family puts into it whatever they like, or whatever's available.
I've seen recipes where it is suggested to use half a bottle of white wine instead of water.
You would be called pretentious in parts of Dublin for that. Some recipes I've seen suggest using garlic, or carrots, or parsley. I prefer the basic 4 ingredient recipe, but like I say, use what you or your family like in the dish. It's not as if there was a Coddle Inspector going around knocking on doors and checking, is it?
St. Patrick's Day
Let's get a few things right before we start. I see Dublin Coddle mentioned as a St. Patrick's day meal. Dubliners eat it regularly and don't wait until March 17th.
Firstly, there is no such thing as St. Patty's Day. It is either St. Patrick's Day or Paddy's Day.
Secondly, a Dublin Coddle has 4 ingredients, bacon, sausages, onions, potatoes.
Thirdly, Irish sausages are not bangers, that's British sausages.
Fourth, you use Irish breakfast sausages, not bratwurst.
Glad we cleared that up. Lots of recipes out there from people who have never been to Dublin, or have some notion of turning Coddle into haute cuisine.
History of Dublin Coddle
Dublin Coddle is a traditional Irish dish that originated in Dublin, the capital city of Ireland. It is a hearty and warming stew-like dish that is typically made with pork sausages, bacon, onions, and potatoes.
The origins of Dublin Coddle can be traced back to the 16th or 17th century when it was a popular dish among the working-class people of Dublin. The dish was created as a way to use up leftover meat and potatoes that were commonly found in Irish households.
The word "coddle" means to cook slowly in water or to stew, (from the French "caudle") and the dish is traditionally made by layering potatoes, onions, bacon, and pork sausages in a pot with water or broth. The dish is then simmered on the stove for several hours until all of the ingredients are cooked through and the flavors have melded together.
Dublin Coddle is often served with crusty bread or soda bread and is a comforting and filling meal, perfect for cold winter nights.
There is a theory that Coddle was made on Thursdays because Catholics were not allowed eat meat on Fridays and this was a way of using up sausages and bacon.
The origins of the dish are unclear, but it is believed to have been created as a way to use up leftover meats and potatoes. It was a favorite among the working-class families in Dublin who would make it on a Saturday night as a way to use up any remaining meat from the week.
Dublin Coddle has a long-standing tradition as a funeral dish in Ireland. The dish was traditionally served after funerals as a way to provide comfort to mourners and to give them a hot, hearty meal after a long day of grieving.
The origins of this tradition are unclear, but it is believed to have started in the working-class communities of Dublin. In these communities, neighbors would come together to help each other during times of need, including funerals. They would often bring food to share with the family of the deceased, and Dublin Coddle was a popular dish because it was easy to make in large quantities and could be left to simmer for hours.
In some cases, mourners may even be invited to help prepare the Dublin Coddle, as a way of bringing people together and honoring the deceased. This tradition reflects the importance of food and community in Irish culture, and the role that both play in times of mourning and grief.
Dublin Coddle has a long-standing tradition as a funeral dish in Ireland, and is often served at wakes and funerals to provide comfort to mourners. The dish reflects the importance of food and community in Irish culture, and the role that both play in times of mourning and grief.
Coddle as a hangover cure
Many Dubliners swear by Coddle as a cure for a hangover, and I think they may be right. A hangover is caused by dehydration and loss of salts and electrolytes. A coddle replaces the salts, makes you thirsty which encourages you to drink plenty of water and that rehydrates you. Now, I'm a butcher, not a doctor, so don't take this as medical advice. Even if it doesn't cure your hangover, it will make you feel better
How to make Dublin Coddle
Dublin Coddle is perfectly suited to making in a slow cooker or to be slow cooked on the hob or in the oven.
To make Dublin Coddle, you will need bacon, sausages, onions, potatoes, and stock. The bacon and sausages are fried together in a pan, and then the onions are added. The mixture is then covered with stock, the potatoes are added and simmered until the they are tender and the flavors have melded together. The dish can be served hot, and leftovers can be reheated for a delicious and hearty meal. A hearty coddle is made from leftovers and therefore is without a specific recipe (this leads to heated debate from purists and the new fusion brigade) and typically consists of roughly cut spuds, sliced onions, rashers and sausages.
Traditional coddle did not use carrots.
You won't need salt in the Coddle because the sausage and bacon will have enough. But you do need good pepper. Add this just as you are serving.
Cooking tip
Some people when they see a bowl of Coddle for the first time are turned off by the sight of the sausages. When you boil sausages, the meat shrinks and the casing becomes flabby and a bit off-putting, to be honest.
So here's my solution: Take the sausage meat out of the casings and make meatballs with it. To get the sausage meat out of its casing cleanly, run the sausages under cold water for 10 seconds and slit lengthways with a sharp knife and the sausage meat will come out without sticking to the casing. Moisten your hands with water and roll the sausage meat into balls the size of cherry tomatoes.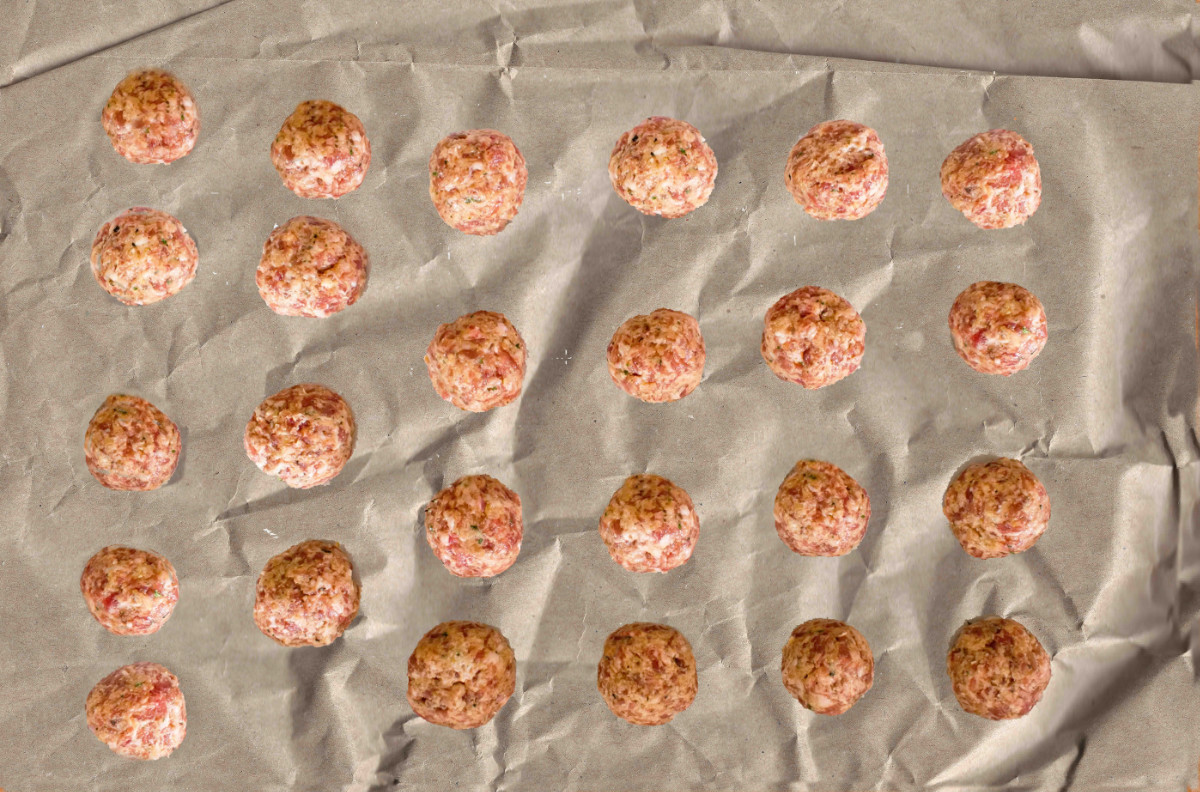 Or you could buy sausage meat and make the meatballs without having to open sausage casings. But buy the sausage meat from butchers who make it themselves. Don't bother with the mass-produced junk made by huge companies.
Bacon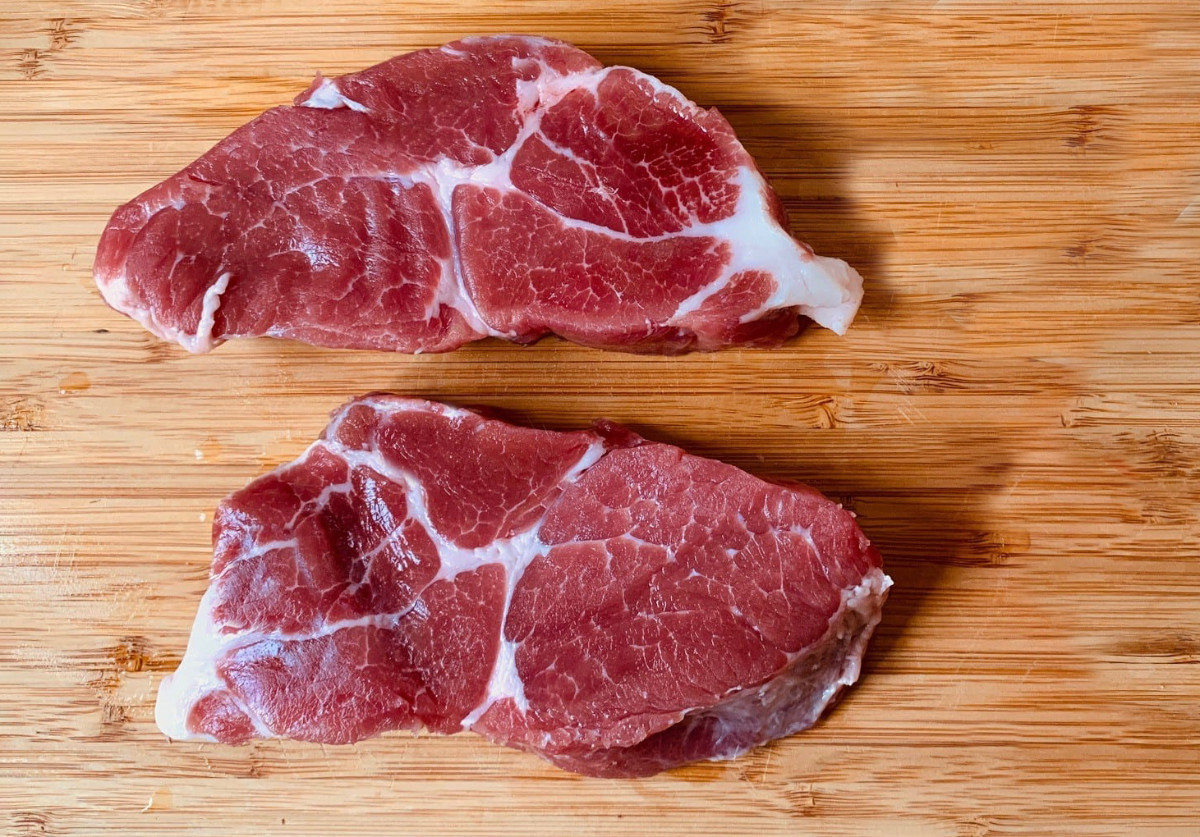 The next thing you need to source are collar rashers or collar bacon. This is the part of the pig that is used for pulled pork, but has been cured. Unfortunately, it is very hard to find collar bacon anymore as people's tastes have moved upmarket and the sale of collar bacon has fallen off.
Pity, because collar bacon has lovely connective tissue that melts during cooking to give a fantastic mouthfeel to real Coddle. Look out for collar if you can, it is so much better than regular bacon. You can use streaky bacon if collar is not available.
Next you need floury potatoes, because you want them to break up and thicken the Coddle.
Making a real Coddle
Place a pot of water and stock on the stove and bring to a boil.
Meanwhile, fry the sausage meatballs and the collar bacon for 5 minutes on medium heat.
Put aside and fry onion for 5 minutes to soften.
Put potato halves in the stock in a slow cooker. Use floury varieties such as Maris Piper or King Edward because they will break up and thicken the Coddle.
Put the onions, meatballs and bacon in with the potatoes and let simmer for 2 hours or more.. You can also prepare this in the oven using a Dutch Oven.
When pot comes to a boil put everything in the slow cooker for 120 minutes. One of the advantages of Coddle is, if you leave it on the stove top or in the oven when it's cooked, for half and hour or longer, it won't do it any harm. If it dries out a bit just add more water or stock.
Serve in bowls with crusty Irish Soda Bread and you have a feast fit for a king. Enjoy!
Here is a page from Sean Kinsella's Cookbook from nearly 40 years ago and this is the Coddle recipe closest to what I believe to be the original and best. Seán Kinsella – Wikipedia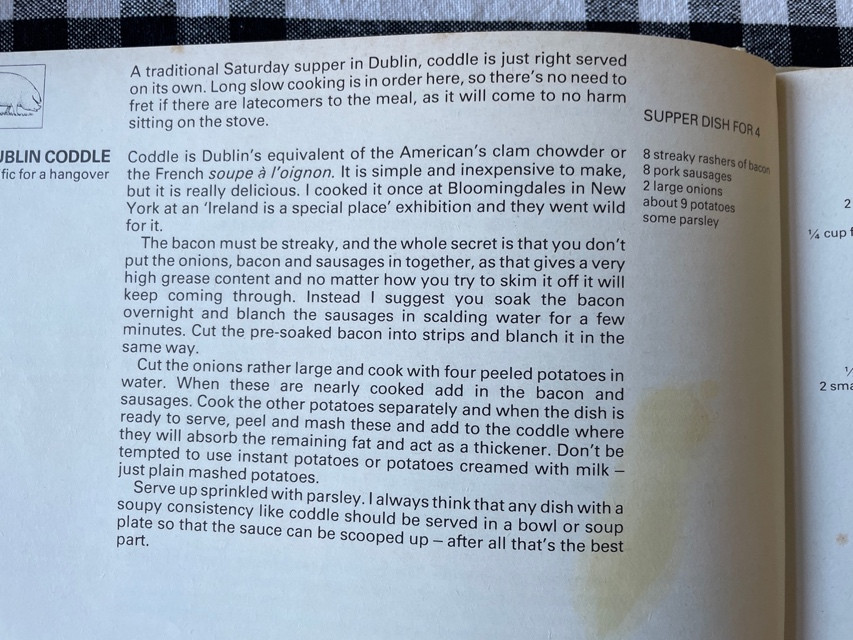 Sean Kinsella was the chef supreme of his generation and his restaurant in Sandycove, Dublin, the Mirabeau, was once in the top 50 eating establishments of the world. He was Ireland's first celebrity chef.
Legend has it he served an epic meal to Greek singer Demi Roussos­. This is reputed to have included five dozen oysters, three ducks and three lobsters followed by generous bowls of Dublin Coddle. But then we Irish like to tell tall tales, so it may be a little exaggerated.
Irish Taoiseach (Prime Minister) Charlie Haughey was a regular patron and the list of celebrity diners included Neil Diamond, the Kennedys, the Rockefellers, Laurence Olivier and Burt Lancaster.
FredAstaire once danced in his kitchen to amuse the staff.
I never ate in his restaurant (couldn't afford it), but I sold meat to him on many occasions. He was a larger than life character and, while he loved ostentation, parking his Rolls Royce at the door of the restaurant, he was a very generous non-drinker who once cooked for 700 homeless people on Christmas Day in Dublin's Mansion House.
Where to get the best Coddle in Dublin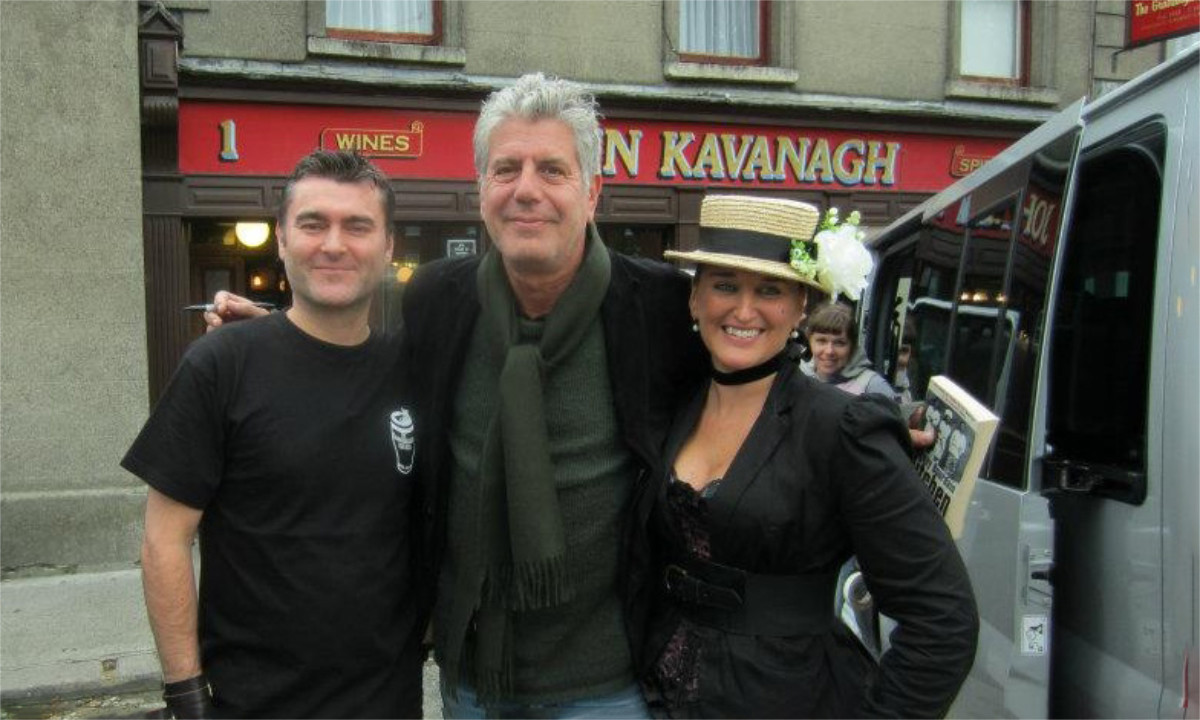 It has to be John Kavanagh's The Gravediggers, 1 Prospect Square, Glasnevin, Dublin. You can get Coddle in lots of pubs but this one is the best. Anthony Bourdain loved it, and he signed the visitors book he liked it so much.. The food in Kavanagh's is fantastic.
Note of warning to visitors to Dublin. Avoid the Temple Bar area in Dublin City. This is ripoff central.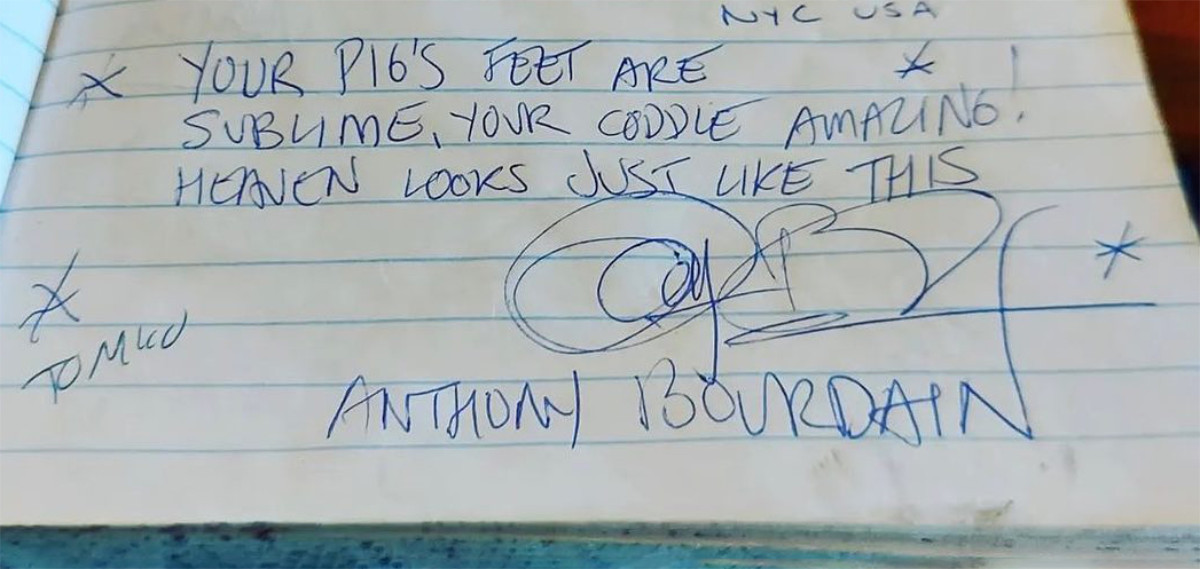 This is a traditional Dublin recipe. Touted as a hangover cure, Jonathan Swift mentioned it as funeral food. Probably because if there were any delays in the burial, the coddle wouldn't spoil by simmering for another hour or two. Also enjoyed by Sean O'Casey and James Joyce who mention it in their writings.
Recipe
Dublin Coddle
Ingredients
4

lbs

potatoes

1

lb

pork sausages

highest quality

1

lb

collar bacon

sliced, thick-cut

3

onions

1

pint

ham stock

or beef or chicken will do

4

tablespoons

fresh parsley

chopped

Salt and pepper
Instructions
First things first, preheat your oven to 300F/150 ºC. While that's heating up, peel your potatoes and quarter the big ones (the small ones can be left whole). Bring your stock to a simmer and get ready to grill those sausages and bacon until they're perfectly coloured and oozing with flavour.

Now, take a heavy pot and get ready to layer your ingredients in the following order (starting at the bottom): onions, bacon, sausages, and potatoes. Make sure to season and add parsley to each layer, because we want to make sure every bite is bursting with flavour.

Pour your stock over the top and get ready to bring the heat. Place your pot on a lit stove until the liquid comes to a boil, then turn the heat down and cover the pot. Now it's time to let your coddle simmer in the oven for 3-5 hours, but don't forget to check after 2 hours and add more stock if necessary.

And there you have it, a mouth-watering Dublin Coddle that's sure to impress your guests. So, fire up your oven, sharpen your knives, and get ready to enjoy a meal fit for a king (or queen). Happy cooking!
Recipe suggestion: Before cooking, run cold water over the sausages and with the point of a sharp knife, slit the casings lengthways. The sausage meat will come out cleanly. Roll sausage meat into small balls and add to the pot.
Bain taitneamh as do bhéile. (Irish for Bon appétit)