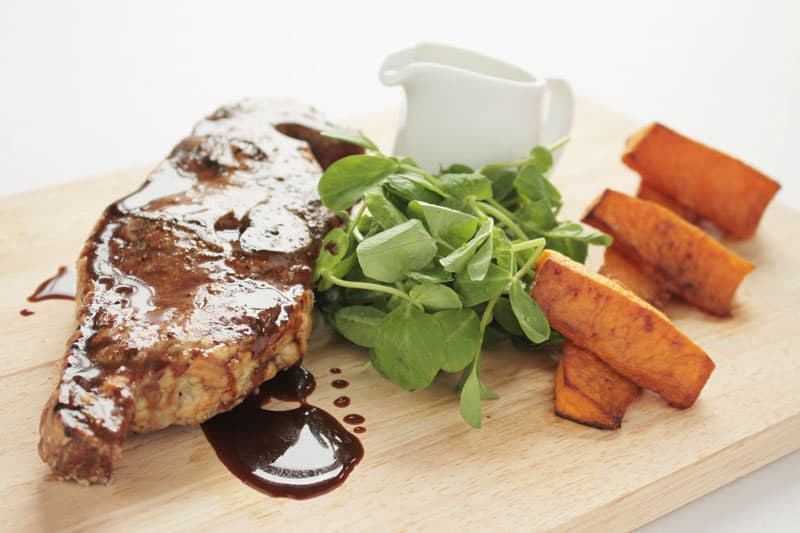 What is the perfect steak?
There is no such thing as the perfect steak. Your perfect steak won't be the same as ours, so we need to establish what you are looking for in a steak.
If money is not an issue, there are many expensive steaks available, depending on the breed, the land it is raised on, the food it eats and the farming method.

You can opt for grass fed, organic, free range, rare breed, dry aged, or any combination of those.
If you are looking for value, there are many steaks available that will fit your spending limits, and some cheaper steaks are high in flavour and nutrition while not breaking the bank.
What steak to choose
First, buy the best steak you can afford. Go to a reputable butcher you can rely on, someone who takes pride in the meat he sells and where it comes from. Tell the butcher what you are looking for, your likes and dislikes, and he will look after you really well. You will come to rely on him for the best cuts.
Breed
If you want to be really picky, go for a specific breed. The most expensive are Wagyu or Kobe Beef and the taste is amazing. Wagyu is heavily marbled and to the uninitiated can look like very fat meat. The intramuscular fat is considered to be higher in omega-3 and omega-6 and the marbling increases the ratio of monounsaturated fats to saturated fats.
Chianina is becoming very trendy among chefs, and the bistecca alla fiorentina is the most famous steak from that animal, the tallest cattle in the world.
Aubrac beef is really good, tender and lean but you will have to look for a butcher who stocks it. Highland cattle are reckoned to have an authentic beef taste, and lower cholesterol, but again finding a stockist can be difficult.
Hereford and Angus are the favourites but there are other breeds to look out for. Dexter, the original small Irish breed is making a comeback lately and Piedmontese is popular because it is double-muscled and has very little fat. The latest trend is for Galician beef, cattle up to 15 years old who have stopped giving milk. In Galicia, in Spain, they let the cattle graze for a few years to recover condition before slaughter. The beef is then aged up to 90 days to achieve a unique flavour. It is pretty pricey too.
Pasture fed versus feedlot
A cow's digestive system is uniquely designed to extract nourishment from grass, something we humans can't do.
However, feeding grass to cattle to reach slaughter weight takes time so the feedlot system came into being to get animals ready for slaughter in a shorter time.
Feedlot cattle are fed on a diet that puts weight on quicker than grass, but at a cost to the health of the animals.
"Antibiotics are mixed in with the feed to keep livers and guts from failing." – Mark Schatzker. "Steak."
Cattle have to be given growth hormones and antibiotics to counteract the lack of grass. In the USA this is by far the most common type of beef available.
Choose your steak based on your primary criteria
Tenderness = Fillet
Size and tenderness = Striploin
Juiciness and Tenderness = Rib Eye
Size and Flavour = Rump/Sirloin
All of the above = T-Bone or Porterhouse
Terroir
Wikipedia defines Terroir as " the set of all environmental factors that affect a crop's epigenetic qualities, unique environment contexts and farming practices, when the crop is grown in a specific habitat. This is usually used in reference to grape-growing for making wine, but it applies to meat also. Where an animal is raised, the food it eats, the temperature and conditions, all have a bearing on the quality, taste and texture of the meat.
Cooking for Flavour
If you are the sort of person who will only eat steak well-done, try this once.
Cook a steak to medium, let it rest for 5 minutes, season and taste.
Forget that there is any pink meat, concentrate on the taste.
If you give it a fair try you will never go back to well-done again.
Selecting quality meat
Thin steaks will be cooked right through, so if you like a rare or medium steak, ask for a thicker cut. If the steak is for more than one person you can always cut it into portions after cooking.
Look for grass fed beef steaks that have been dry-aged for 21 days or more for maximum tenderness and flavour.
Buy from a real butcher and he will get to know what you like and will try to have what you want when you shop with him.
Cooking Method
Bring steaks to room temperature for bout half an hour. Heat your griddle or frying pan until smoking hot over a very high heat.
Brush the steak with a little olive oil and season with sea salt and freshly ground black pepper just before cooking.
Don't griddle/fry more than two steaks at a time, and keep them spaced well apart. If you add more than two steaks to the pan at once, the temperature will drop and the steak will steam, rather than fry.
Don't turn the steaks until the required time is up, then turn them over and cook on the other side (see timings, below).
Let the steak rest for about 5-10 minutes (in tinfoil) before serving, to allow the juices that have been drawn to the surface to relax back into the meat.
These timings are based on cooking a striploin steak that's about 2cm (3/4 of an inch) thick. (Cooking times will vary depending on the type and thickness of the steak, and how hot your pan is.)
Blue: 1 minute each side
Rare: 1½ minutes each side
Medium rare: 2 minutes each side
Medium: 2¼ minutes each side
Medium-well done: 2½ – 3 minutes each side.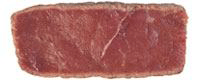 Blue rare (46C)- seared on the outside, completely red throughout. Meat remains gel-like in texture and difficult to chew; juices are not yet flowing freely.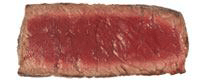 Rare (49C)- seared and still red 75% through the centre. After resting for 5 minutes this will be perfect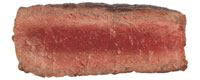 Medium rare (52C)- seared with 50% red centre. Just a bit further on from perfection.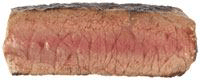 Medium (57C) – seared outside, 25% pink showing inside. Drier and tougher than rare steak, but still palatable.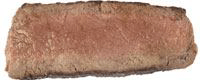 Medium well (65C) – done throughout with a slight hint of pink. Will be dry and some of the flavor will be lost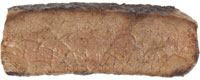 Well done (71C) – Brown all through. Overdone.
What to put on your steak?
Salt and pepper should be enough on a really good steak. Just enough to be able to get the true beef taste.
Pepper Sauce? Great for an ordinary supermarket steak, but a really great steak has a flavor you won't want to mask.
In his book, Steak : One Man's Search for the World's Tastiest Piece of Beef, Mark Schatzke travels to eight countries to find the best steak in the world. A great read for anyone who understands what makes a great steak and an even better read for someone who wants to understand. The best book on meat we have ever read.
For those of you who want to cut your own steaks, Kari Underly's The Art of beef Cutting is a must read.
The Perfect Steak?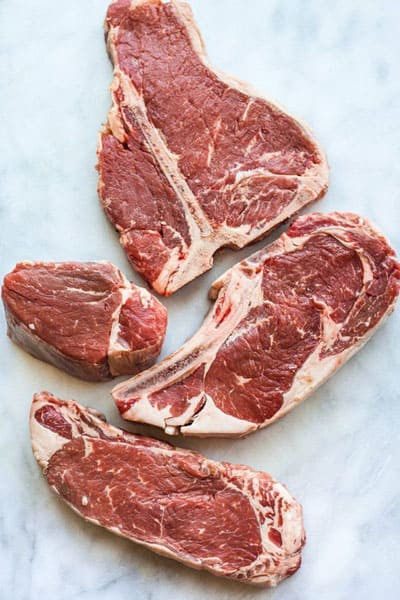 In the end, it all comes down to what your personal tastes are.
Rare or well-done.
Feedlot or pasture
Wet or dry-aged
Butcher or supermarket
Specific breed or potluck
Lean cuts or fatty cuts
Cheap or expensive
So many combinations out there to taste until you find your perfect steak.
Have fun trying!
Let us know your favourites.