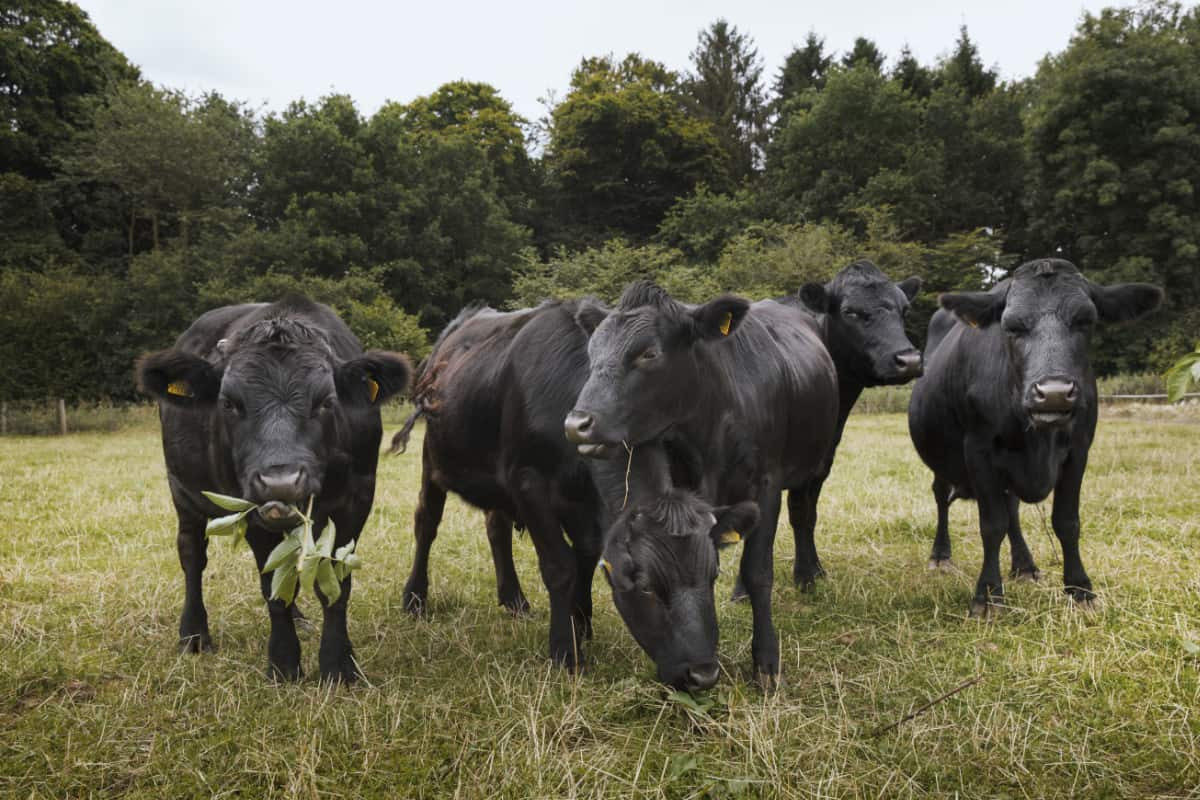 Let's talk about Dexter & Sandy. No, not the sequel to Grease, or another American sitcom, but two free-range breeds that have piqued my interest. I recently visited two free-range farms to get an insight into non-industrial meat sources and learn about high-quality meat. I was not disappointed. Dermot Allen runs Winetavern Farm, near Baltinglass, County Wicklow and raises pedigree Oxford Sandy & Black pigs. Peter Bryans runs Donabate Dexter in North County Dublin.
Look out for Dexter beef and Sandy pork. You'll be hearing a lot more about them in future. Here's what you need to know.
Dexter Beef is a native Irish breed.
Dexter is also Heraldic Latin for right (side) while Sinister is Latin for left side. This might explain the bias towards left-handed people in less enlightened times.
Dexter beef is the right choice when choosing high-quality, environmentally-friendly meat.
But why?
Dexter beef is naturally more tender than other beef and contains more Omega-3 fatty acids. The cattle are a hardy breed that live on grass all year round and don't need veterinary attention except in extreme cases. They are truly free range.
Dexter cattle are a mountain breed that is well-adapted to the harsher landscape of Ireland's rocky fields. They thrive on low-quality pastures and will also eat weeds and unwanted vegetation. Their small size and weight also ensure that they do less damage to damp, water-logged land. They are more agile than larger animals and can climb better to reach awkward spots bigger cattle cannot.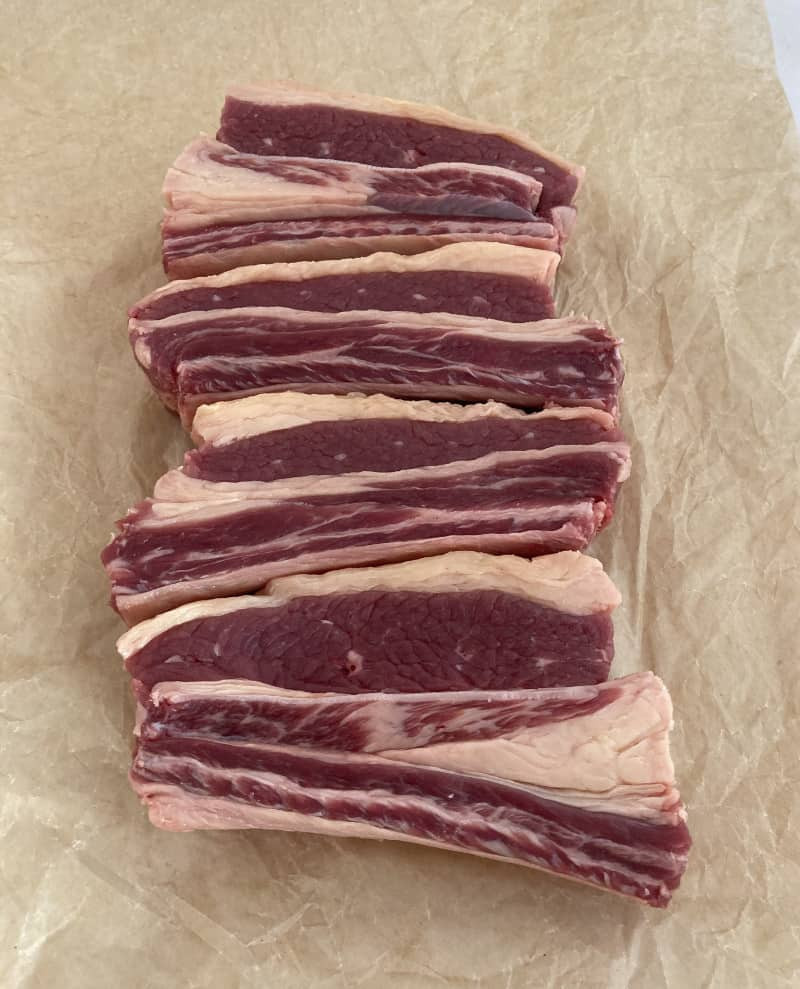 The original Dexter breed
Originally known as the "poor man's cow" because they needed less land to thrive on, they were named after a Mr. Dexter in the 1700s who bred the cattle for their hardiness and good eating qualities. They have a great beef flavour and meat yields are excellent due to the lower amount of fat on the body compared to other breeds
Milk from Dexter cows contains a higher level of butterfat than traditional milk breeds. The breed book, the history of Dexters, has been in existence since the 1840s and every registered animal is recorded there.
There are genetic similarities between the Kerry cow and the Dexter, but they are now considered to be separate breeds.
An interesting trait is that mothers are very protective of their calves, and will also suckle an orphan calf if necessary.
The smallest of the European cattle breeds, being about half the size of a traditional Hereford, Dexter cows are about one third the size of a Friesian.
The breed almost became extinct in the 1970s, but thanks to the efforts of the British Dexter Society, they are now secure.
The taste test
I had never tasted Dexter meat previously, so I was very keen to sink my teeth into a nice steak. The first thing I noticed was the flavour. It reminded me of what beef used to taste like when I started as a butcher, 50 years ago. The Japanese came up with the term umami, meaning savoury, and Dexter beef has that in spades. A big, beef flavour with a small amount of very tasty beef fat. Something you don't get from the larger Continental breeds. There is also a tenderness without being too soft or mushy.
40 minutes before I cooked it I put sea salt on the steak, then I fried it for two and a half minutes each side and then put it in a preheated oven for 10 minutes @180C.
This was a steak to remember.
Many people mourn the disappearance of what we used to call a "butcher's heifer", a medium-sized animal, usually a Hereford, Angus or Shorthorn.
The smaller carcass size of the Dexter means that a 10oz steak will be thicker than one from a bigger animal. Thicker steaks are better for cooking if your preference is rare to medium. Steaks from the larger cattle will be thinner for the same weight and that makes it difficult to control the cooking. Roasts too are smaller, giving the customer the opportunity to control rareness as they require. Some of the most important characteristics of Dexter meat are its taste and benefit to your health. The breed develops a unique 'spider' marbling and is high in CLAs, Omega 3, Omega 6 and Omega 9. People who first taste Dexter meat also find that they will eat less than they would have eaten of conventional meat.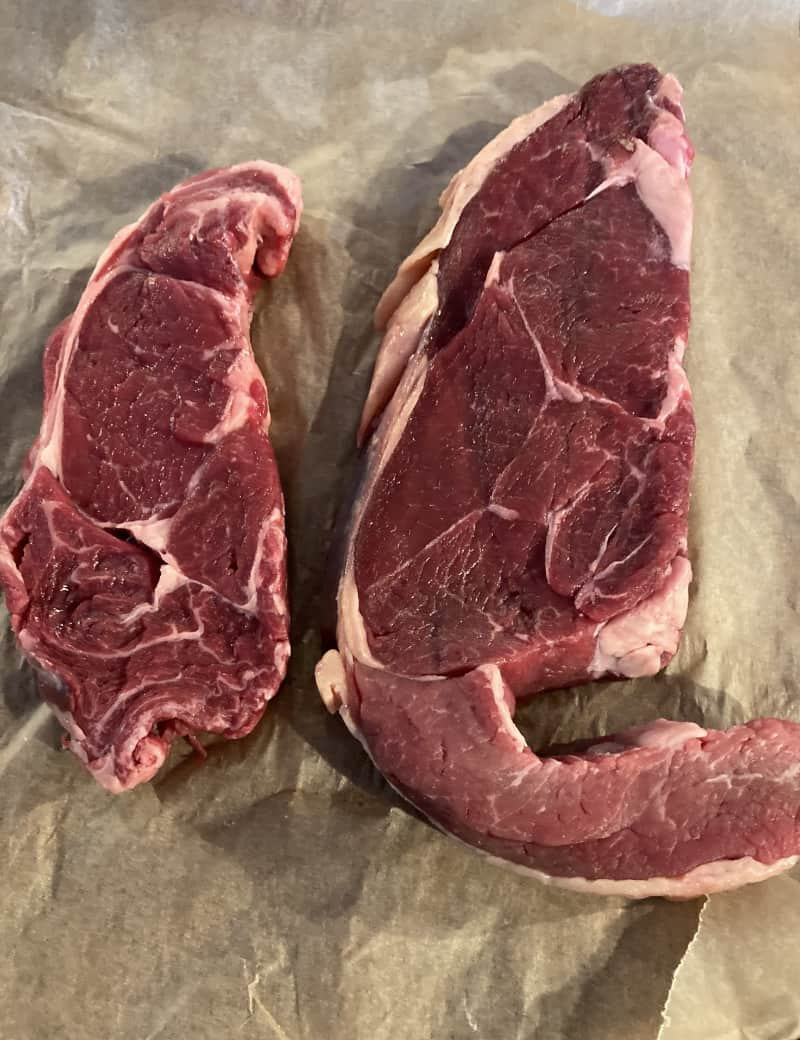 Availability
It used to be that Dexter beef wasn't readily available to consumers, but that is changing. There are a few dedicated outlets for this wonderful beef. killenure.ie and donabatedexter.ie are two I know of and I will look into finding more. dextersociety.ie should have a list of suppliers.
If you know what you want and are prepared to ask your supplier to get it for you, there should be no problem obtaining this beef. If customers want it suppliers will source it.
Recipes
There are some really good recipes for Dexter beef you should try:
I have tried these and can report that they are all excellent.
Quality beef.
Dexter beef is excellent quality, with good marbling. The marbling makes the flesh tender and flavoursome . A typical carcass weighs about 145-220kg, and despite their small size, they can often achieve a killing-out percentage of well above 56%. This is due to a good ratio of meat to waste products like fat and bone.
I visited the Donabate Dexter farm to see the cattle for myself and they seem to have it all. Lots of fresh green grass, plentiful water and of course, freedom to go wherever they want to. The popularity of Dexters has been fueled by a desire for organic food, health concerns over factory farming, and food prices. You owe it to yourself to taste this marvellous beef.
To try this delicious meat, visit donabatedexter.ie for deliveries. And let me know what you think afterwards. [email protected]
Frequently Asked Questions
What are the main dexter cattle characteristics?
The main dexter cattle characteristics are: Native Irish breed, small cattle, 2/3 the size of a Hereford, naturally tender, high in Omega 3 and 6, good marbling, big beef flavour. Easy to manage, live totally on grass, don't need to be kept indoors in winter. Thrive best in natural family groups.
When to butcher Dexter cattle?
Because they are a small and naturally tender breed and take longer to mature they can be slaughtered up to 60 months old or even older
How does Dexter beef quality compare to Angus?
There is a lot more marbling in Dexter and because they are small animals, steaks cut to say 8 oz are thicker than other breeds, giving a better depth of flavour for rare or medium steak lovers
Where can I buy a Dexter cow?
There are many Dexter farmers who will sell live animals. Our favourite is Donabate Dexter in North County Dublin, Donabatedexter.ie, Killenure Dexter in Tipperary are worth contacting also. There are Dexter breeders in many countries and they contact each other regularly. A few to start with are:
http://www.dextercattlesociety.ie/
https://www.dextercattle.co.uk/
http://www.dexter-cattle.co.nz/
https://dextercattle.org
https://lbcentre.com.au/Dexter-Cattle-Australia.php
When can I buy Dexter beef online?
We have been dealing with Donabatedexter.ie for a while now and we are very impressed with the quality of the beef. In the South of Ireland try Killenure.
What are typical dexter beef prices?
Because they take longer to mature, about 10% more than regular beef
Is Dexter beef good for burgers?
Yes. They don't need additional seasoning because of the depth of flavour in the beef.