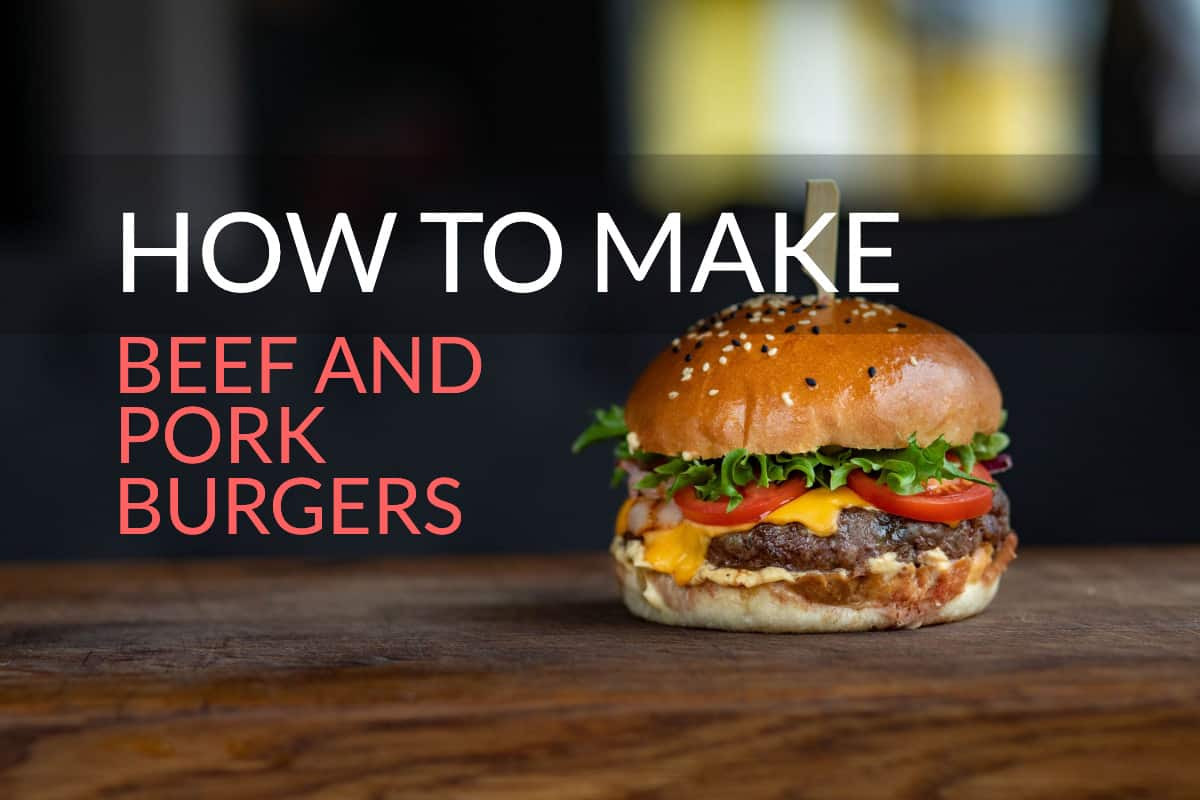 All over the world, there are burger brands and varieties, local and national, all claiming to be the best. There are chains worldwide who have distinctive combinations, all claiming to be the best. That's great, more choices for everyone.
I once queued for 40 minutes at Fergburger in Queenstown, New Zealand and to be fair it was worth it. But the long queue is really part of the attraction so you can say you did it.
If you are going to make burgers at home, you might as well make them the way you want them.
First of all, let me say this is my preferred recipe. You make your burgers whatever way you prefer and I'll do the same. "How to make the best burgers" is a headline that will cause trouble, even in families. Everyone has their favourite method, favourite flavours and you know what? that's all good.
Mixing pork with beef gives a slight sweetness and also makes the mix less dense than if it was beef alone. It also adds some fat, and fat means flavor. Don't be afraid of it.
This recipe is non-specific on quantities so you can add more or less of whatever you prefer. It takes the easy way with how the burgers are prepared to minimize cleanup and I have made the burgers small so they can be cooked quickly. You're welcome.
Making your burgers
You can change whatever you want in this recipe and call it your own, I won't be offended.
Making burgers doesn't have to be a big production. After all, it's just ground beef with some flavourings, not Beef Wellington, so just relax and make a few burgers.
In this mix I used 500 grams each of beef and pork, this can be adjusted whatever way you want.
Add an egg, breadcrumbs, salt, pepper, tomato puree, soy sauce, Worcestershire sauce (pronounced Wurstersheer or Wustersheer) if anyone is interested). Some finely chopped onion and finely chopped mushrooms (the finer the better) fried off for 5 minutes to release the flavours. I sometimes use Smoked Bacon flavor crackers instead of breadcrumbs to add a smoky flavor. Crush the crackers into a powder and add to the other ingredients.
And there's your burger mix.
Mixing the ingredients
Add all ingredients together in a mixing bowl and combine until well mixed.
If you mix the ingredients for too long, you get a very dense burger caused by the protein strings from the meat creating too much natural binder. So mix just enough to combine the ingredients.
Shaping your burgers
Lay a sheet of clingfilm out on your work surface.
Spread out your burger mix into a level, neat rectangle.
Cut according to the size of burger you want.
Roll the pieces into meat balls.
Lay out a clean sheet of clingfilm.
Put the meat balls on it with some space around each.
Cover with another sheet of clingfilm.
Press each of the meat balls down with the burger press.
Continue until you have finished all the burger mix.
Cooking your burgers
Fry, grill, broil, BBQ or cook by whatever is your preferred method.
Try different ingredients and quantities.
Add lamb, or turkey, or bacon to the beef to make your own signature burger.
There is no right or wrong way to make burgers.
Serving your burgers
Serve on a toasted or plain bun, dress with ketchup, or other sauce.
Add onion or battered onion rings, cheese, coleslaw, smoked bacon or any other ingredient that takes your fancy.
Burger Preparation Safety
Raw hamburger may contain harmful bacteria that can produce food-borne illness such as Escherichia coli O157:H7, due to the occasional initial improper preparation of the meat, so caution is needed during handling and cooking. Because of the potential for food-borne illness, the USDA recommends hamburgers be cooked to an internal temperature of 160 °F (71 °C). If cooked to this temperature, they are considered well-done.
A word of warning
Don't eat rare cooked burgers unless you are 100% sure of the origin of the meat and who handled it. Don't leave minced (ground) beef out of refrigeration on a warm day and of course, wash your hands thoroughly AND wear vinyl gloves. A burger party can be a nightmare if someone becomes ill through bad hygiene during meat handling.