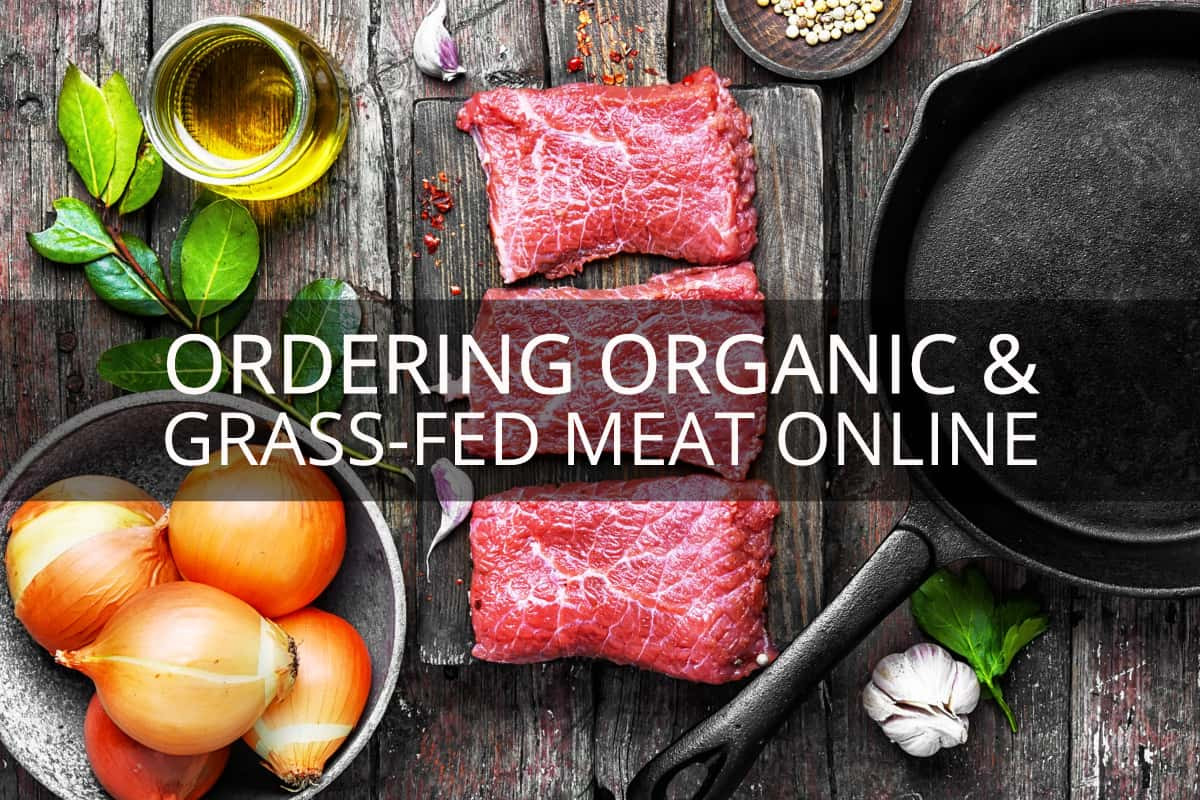 Gourmet and Organic meat delivery – ordering meat online

Online meat ordering and delivery is an increasingly popular option for people looking to get their protein, without spending too much time or effort.
Having fresh meat delivered at the click of a button seems futuristic and cold. But the truth is once you remove the ordering process (clicks in cyberspace), there's little difference between how your order is handled. Consider that unless you live close to farmers that you can buy directly from, the meat products you consume generally have to travel.
Many people live in rural areas not serviced by quality butchers. Others are unsatisfied with the local butcher and supermarket offerings. So they turn to meat delivery companies to service their needs for steaks, lamb chops, chicken breasts, venison, and pretty much anything else.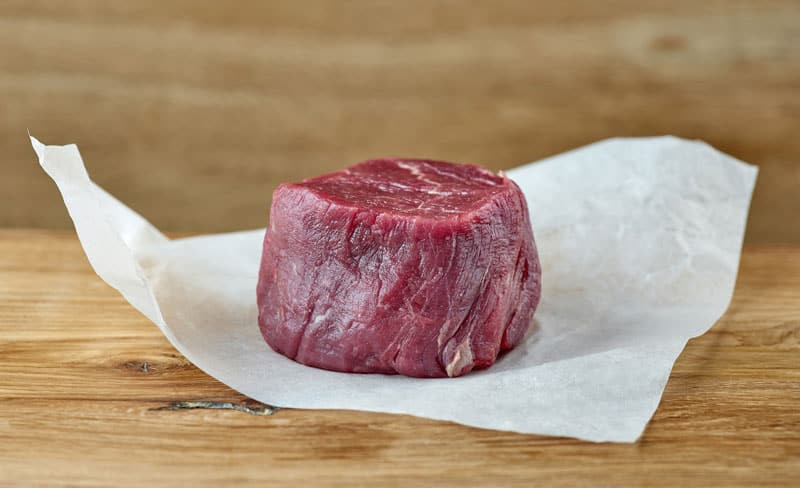 Organic Grass-fed beef
But what about organic and grass-fed beef? We found that there's a lot of confusion around these labels. Conscientious consumers look for quality meat products online but are confused about food labelling and more importantly, which online meat suppliers they should buy from.
We've listed the most popular meat delivery companies in this article along with details about the meat: organic, free-range, etc.
Finding Organic meat from cows fed on grass for home delivery can be a daunting task. Food labelling is often an exercise is smoke-and-mirrors tactics to baffle and confuse consumers. So let's first look at how meat is marketed.

What is organic meat?
According to the US Department of Agriculture (USDA), the organic meat title applies to animals raised in natural conditions, fed 100% organic feed, and not administered antibiotics or hormones.
If you care about your food and your health, you can probably see the problem already. 100% organic feed also refers to grain, a non-natural food for cattle.
What's more important for you the consumer, in our opinion, is that the animals are grass fed and grass finished.
Why Grass-fed?
The rise of meat from cows raised on grass appears to be nothing short of spectacular, doubling in size every year. However, sales of grass-fed beef account for a mere 1% of total beef sales in the US.

Grains like corn, wheat, and soy are not natural foods for cattle (or most animals). Cows thrive on grass as their primary food source. Grass-fed beef can be up to 3 times higher in conjugated linoleic acid (CLA) than grain-fed.
Omega-3 concentrations are higher in natural and hay-fed cattle than feedlot cattle. The meat from soy and grain-raised cows, so common in the US, has a high Omega-6 to Omega-3 ratio. This can have negative consequences for our health. The natural ratio is 1:1 and when we consume foods high in Omega-6 we suffer the effects of inflammation.
According to a study published in the Nutrition Journal, "High consumption of omega-3 FAs is typically associated with a lower incidence of depression, a decreased prevalence of age-related memory loss and a lower risk of developing Alzheimer's disease". That's hopefully enough to deter most people.
For optimum health you'll do yourself a favour by staying away from high Omega-6 grain-fed meat and stick with natural foods that restore the balance.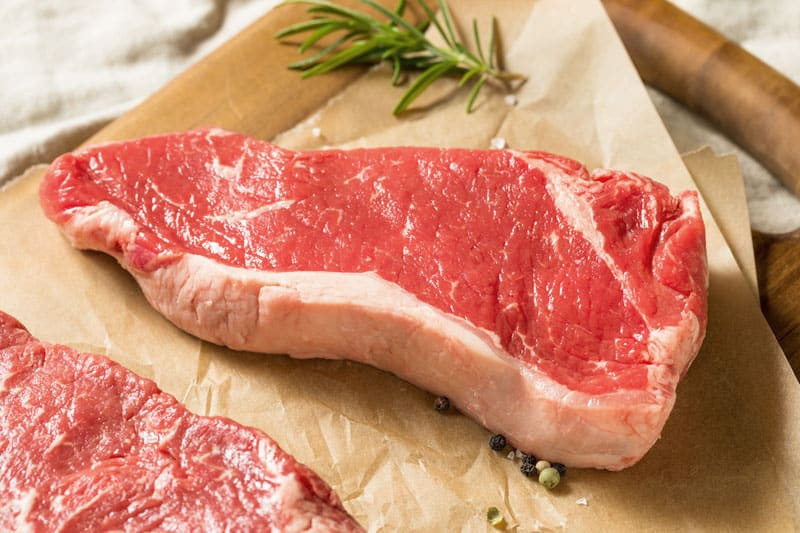 Advantages and disadvantages of ordering meat online
The pros of buying online:
You get to pick from the best of the best, not just the best in your local area.
You can sometimes shop around to find the prices cheaper than in store.
As long as you buy from stores that source meat from small, independent farmers that raise their cattle ethically, you're supporting the future of meat production.
The range of choice is often much larger than you'll see in any high-street butcher or even the supermarket.
The cons on buying online:
It can be more expensive than buying in store.
You can't ask the butcher about the best cuts of the day, or ask him how to prepare a cut of meat. You also miss in-store specials.
As long as the meat is ethically slaughtered and prepared by an experienced butcher, ordering online is perfectly fine for conscientious consumers.
Why people order meat online.
There are likely two factors involved
1. Many meat consumers feel overwhelmed by the different cuts. Male consumers, in particular, can feel out of their depth when ordering meat in a butcher shop.
2. The increase in awareness of how meat is prepared and sold has lead consumers to seek high-quality products. Today's meat buyers want to know how the animals are treated and what they eat. Sourcing meat from non-toxic, and above all, humanely treated cows, is a priority for the conscientious consumer. These consumers look online for options.
The Butcher Box: Meat-Box Delivery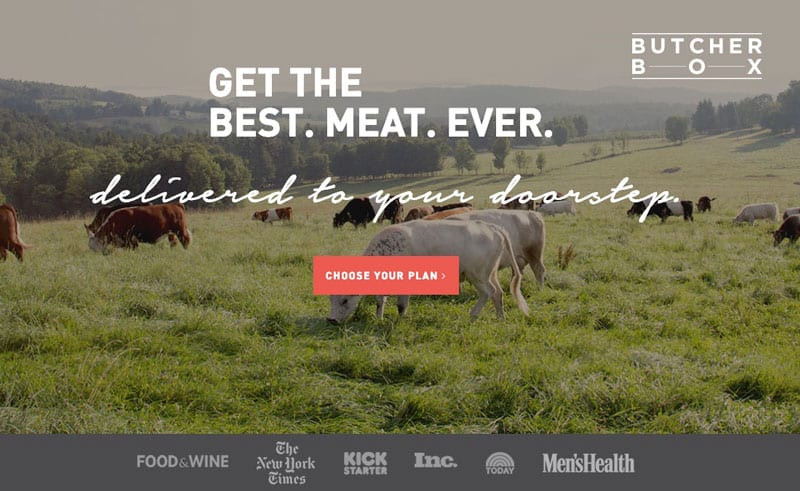 Subscription boxes, in any niche, have exploded in the last few years. Judging by the massive rise in sales of monthly subscription boxes (in any niche), it's clear that people just love getting regular parcels of what they fancy most.
Meat box subscriptions are no different.
The goal of having the best organic meat boxes online is one that The Butcher Box aspires to. And we think it's doing a great job. The company offers grass fed organic beef and free range chicken & pork, free of antibiotics or nasty hormones, delivered to your door every month.
The meat is 100% grass fed and organic. Mike Salguero, the company's founder, is passionate about sourcing high quality meat and only uses the best produce he can find. ButcherBox also offers free-range organic chicken, and "heritage breed" pork. Heritage breed is a special type of slow-grown pig. These animals are not fed with hormones or antibiotics to make them grow abnormally fast. The heritage pigs spend time outdoors and in open barns and mature slowly. This gives them not only a better favour profile, but a more nutritious meat.
The company guarantees that the meat you receive is antibiotic and hormone-free.

As meat lovers, we all want the animals that provide us with such important nutrition, to be treated like sentient beings.
If you'd like to learn more about Mike's journey (trust us, it's a fascinating one), listen to this interview on the Bulletproof radio show with Dave Asprey. Dave Asprey is the creator of The Bulletproof Diet, which is based heavily on the idea that non-toxic, natural, ethically-raised meats are the key to perfect health.
🥩 100% grass-fed beef. Not organic certified.
🥩 Butcher Box is a monthly meat delivery service for US and Canadian customers.
🥩 US and Canada delivery
🥩 Subscription service – 5 box options
🥩 Free shipping
🥩 Pasture-raised meat from the US and Australia https://www.butcherbox.com/sourcing/
🥩 Offers salmon, pork, chicken, and lamb
🥩 Credit card payments only
Crowd Cow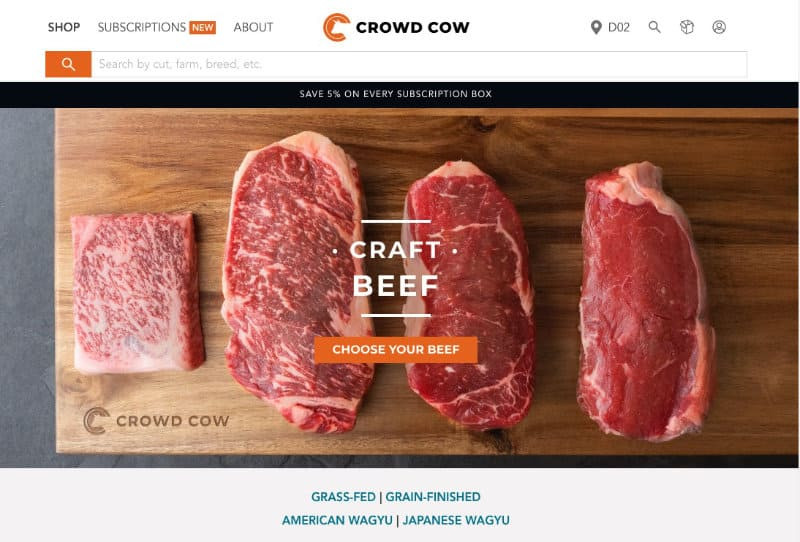 The wonderfully-named Crowd Cow offers grass-fed and grain-finished American and Japanese Wagyu beef. 100% Grass-fed, pasture-raised beef with lots of marbling and tenderness.
Order new york strip steak, boneless ribeye steaks, filet mignon, wagyu chuck eye, wagyu bone-in ribeye, and more.
Grassland Beef – US Wellness Meats online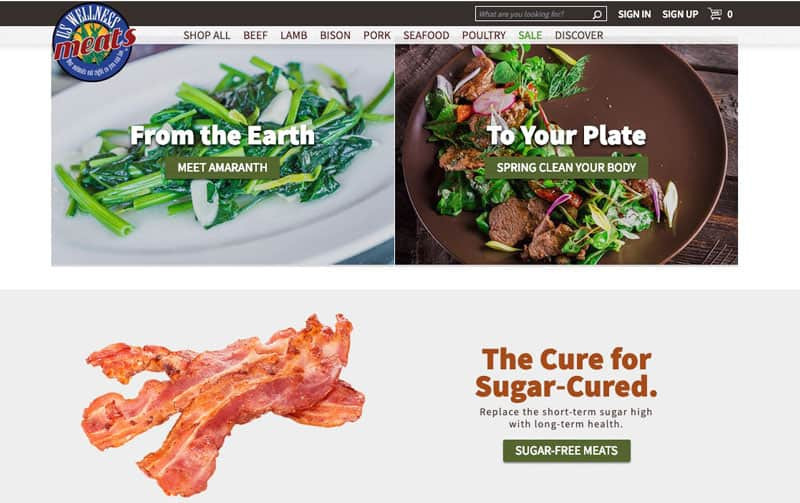 Wellness Meats offer a large selection of steak options for ordering: Ribeye, French ribeye, NY Strip, tenderloin filet mignon, top sirloin butt steak, flank, coulotte, flat iron, teres major, and many more.
Shipping is free, by Fedex, with $9.50 handling fee per total order. Delivery time is 24-48 hours.
US Wellness Meats rides the current trend towards healthier meats. With the keto diet, paleo diet and other eating regimes generating interest in organic meats, grass fed meats, and the resurgence in healthy fats, there's a demand for "healthful" meat.
Cutting out sugar in the diet is another goal of conscientious consumers in 2019. US Wellness Meats has responded with "sugar-free meats". Yes, you can order your meats without sugar now. Were you aware of the sugar content of the meat you consume? It's certainly abundant in many processed meats.
Paleo meat sticks, Bison chorizo sausages, sugar free fatty ham, and sugar free Canadian pork bacon slices are just some products available to the no-sugar diet meat lover.
🥩 100% grass fed. Not certified Organic but follows those practises.
🥩 Organic in all but name
🥩 Sustainable farming practises
🥩 No antibiotics or hormones
🥩 Grass finished cattle
🥩 30-day ageing
🥩 Ships to Canada
Organic Prairie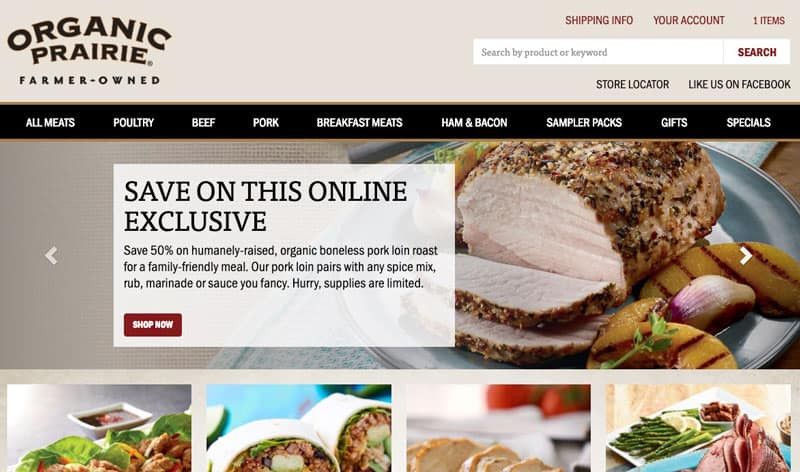 Organic Prairie is certified organic by the USDA. As I mentioned above, the rules around "organic" leave the door open for "unnatural" feeding, but Organic Prairie uses 100% certified organic beef from cattle raised purely on grass.
For bulk buy meat orders OP offer includes:
Ten-packs of beef tenderloin steaks
Eight-packs (2 of each) samplers of Striploin, Tenderloin, Sirloin and Ribeye.
Organic ground meat
6-packs of tenderloins
There's also a specials page which offers discounts of up to 50% on meats
Australian-raised cattle
Organic Prairie is and independent co-op of family farms that has been producing meat without the use of antibiotics and hormones for over 20 years.
🥩 100% Organic Certified. Beef raised on grass.
🥩 Pastured and organic
🥩 Grass fed and finished
🥩 US-Shipping only
🥩 Family-farm sources meat.
Snake River Farms – Kobe Beef Online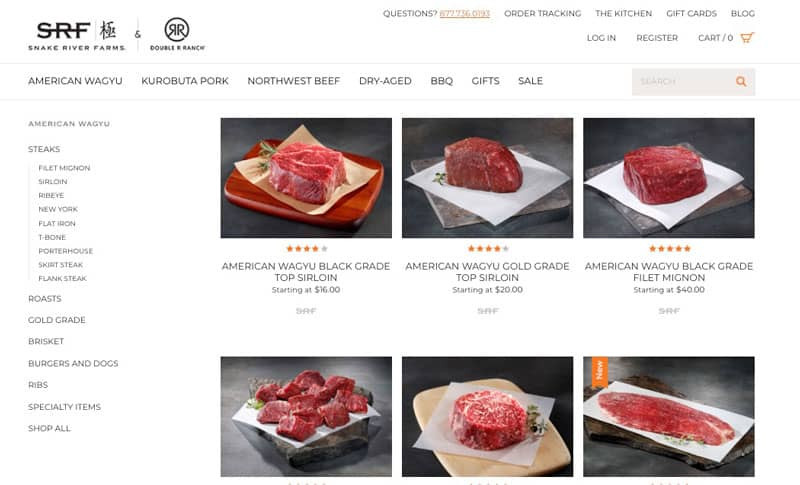 Sometimes you want luxury and will spend money to get it. The problem is when that luxury is hard to find. Most high street restaurants are shy of stocking Kobe and Wagyu beef regularly. The money lost in a product that doesn't sell is too much to contend with. But for gourmet meat delivery specialists Snake River Farms, gourmet beef is always in stock.
Fancy a wagyu brisket?
Heard of Korobuta pork? Check out the porcine equivalent of kobe beef. 
The company states "We use only 100% purebred Berkshire hogs as mandated by the Japanese Ministry of Agriculture." Looks like they take this business seriously.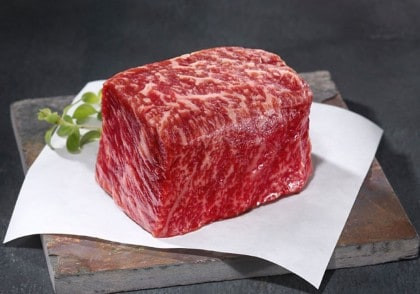 🥩 Not 100% grass fed. Not Organic
🥩 37% Corn-fed products
🥩 Non-GMO is not guaranteed
🥩 US-Shipping only
🥩 21-day wet aged