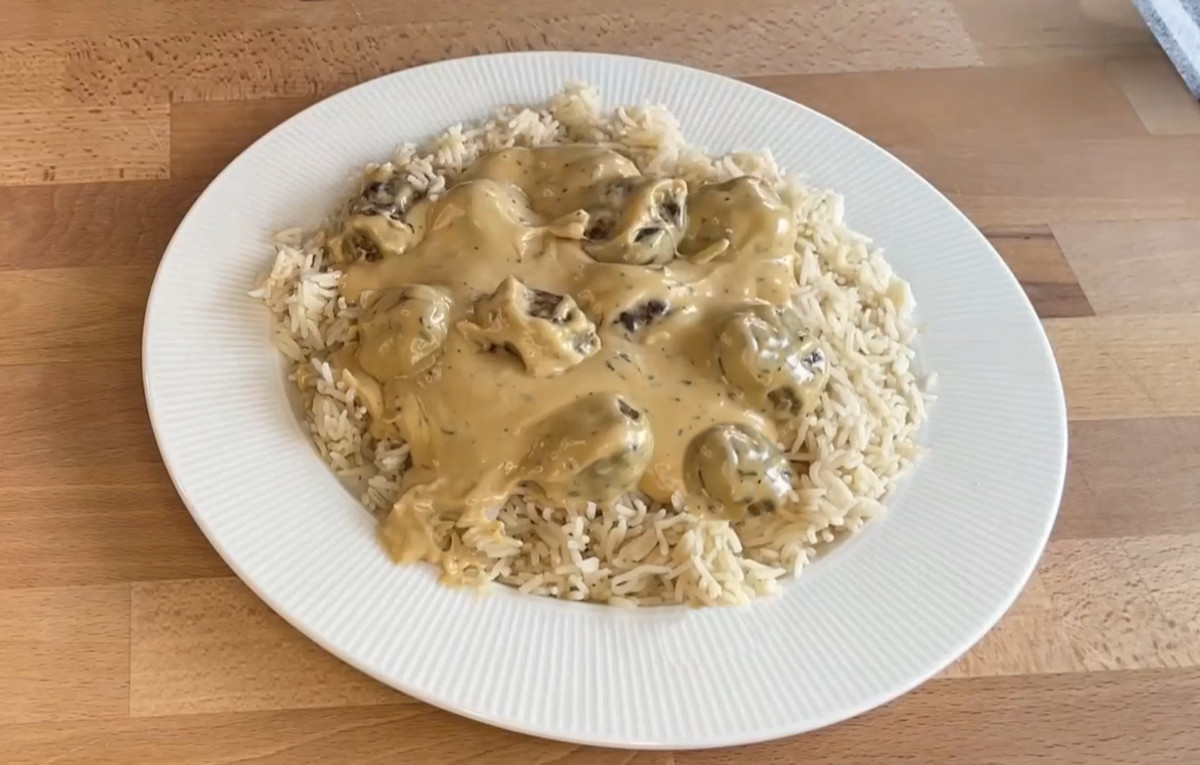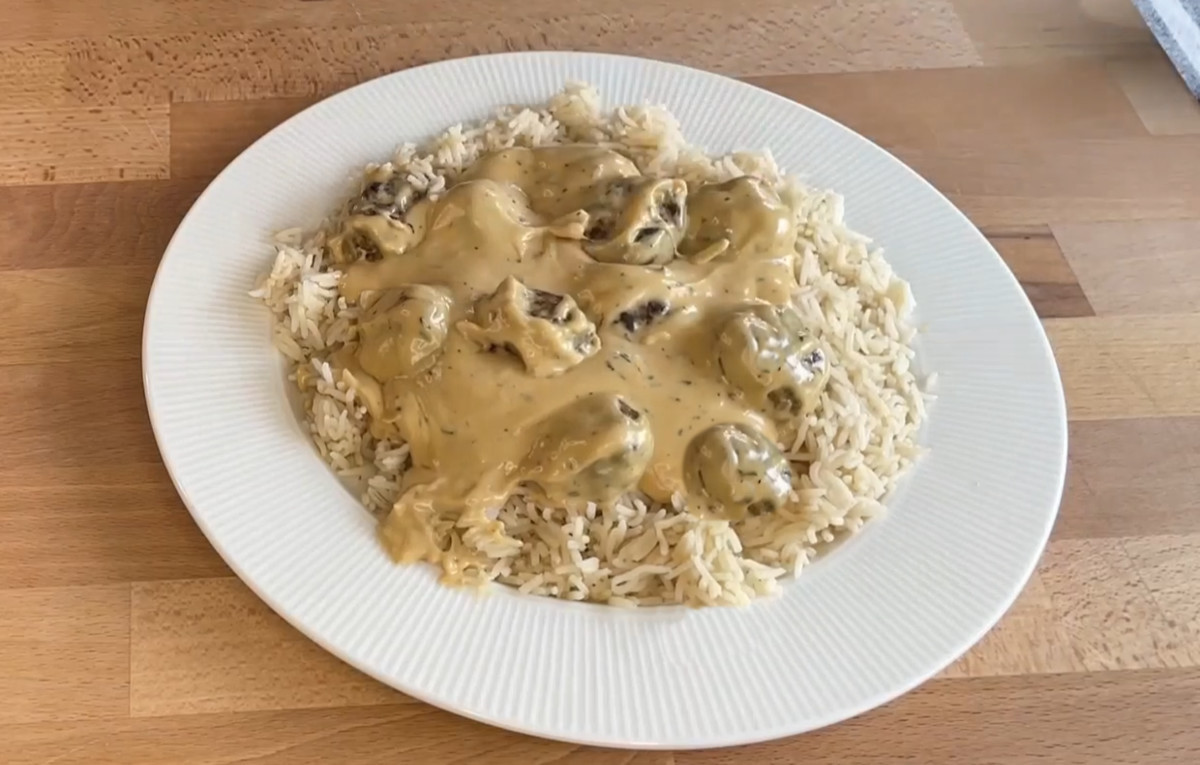 How to make Swedish Meat Balls
Making Swedish Meat Balls is quite easy, using easily available ingredients. Beef, pork, sausage meat, onion, breadcrumbs, milk, spices, egg, worcestershire sauce.
One of the best things about one pot Swedish meatballs is how simple it is to prepare. Everything is cooked in one pot, which means less time spent on cleanup and more time spent enjoying the meal. It's a great option for busy weeknights or lazy weekends.
The Tasty Delight from Scandinavia
Swedish meatballs have gained popularity around the world, thanks in part to a famous self-assembly furniture retailer . However, these delicious meatballs have a long history in Swedish cuisine, and they are not just a quick meal to grab on the go. In this blog post, we will explore the history of Swedish meatballs, the ingredients that make them unique, and how to make them at home.
History of Swedish Meatballs
Swedish meatballs, or köttbullar as they are known in Sweden, have been a part of Swedish cuisine since the 18th century. The first recorded recipe for Swedish meatballs was found in a cookbook from 1754. However, the dish did not become widely popular until the mid-20th century when it became a staple of Swedish cuisine.
Swedish meatballs were traditionally made with ground beef or pork, mixed with breadcrumbs, milk, and spices such as allspice and nutmeg. In the early 20th century, the dish was modified to include lingonberry sauce and creamy gravy, which is now a classic accompaniment to the dish.
Ingredients of Swedish Meatballs
The key to making delicious Swedish meatballs is to use a combination of ground beef and pork, which gives them a unique flavor and texture. Other key ingredients include sausage meat, breadcrumbs, milk, eggs, and spices. The breadcrumbs and milk help to keep the meatballs tender and moist, while the eggs act as a binding agent.
The spices used in Swedish meatballs are what give them their distinctive taste. The most common spices used are ginger and nutmeg, but other spices such as cardamom, cinnamon, and allspice can also be used.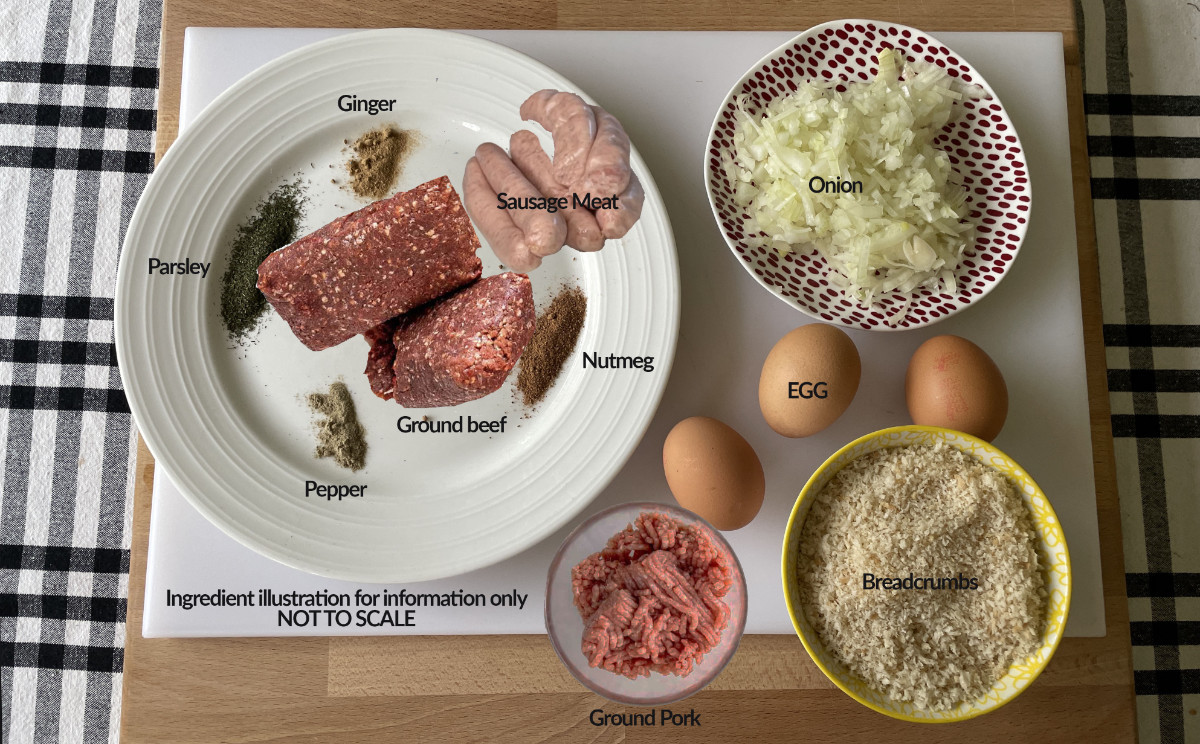 One Pot Swedish Meatball recipe
Making Swedish meatballs at home is easy and can be done in just a few steps.
Ingredients:
1 pound ground beef
0.6 pound ground pork
0.4 pound sausage meat
1/2 cup breadcrumbs
1/2 cup milk
1 egg
1/2 teaspoon salt
1/2 teaspoon black pepper (or white)
1/2 teaspoon ginger
1/4 teaspoon nutmeg
1/4 teaspoon sage
1/4 cup butter
1/4 cup flour
2 cups beef broth or beef stock
1/2 cup heavy cream
dash of Worcestershire sauce
Lingonberry sauce (optional)
Instructions:
In a large bowl, combine the ground beef, ground pork, breadcrumbs, milk, egg, salt, black pepper, ginger, and nutmeg.
Mix the ingredients together until well combined. Roll the meatball mixture into small balls, about the size of a walnut or a little less. The smaller meatball cooks better, I've found.
In a large skillet, melt the butter over medium-high heat. Add the meatballs to the skillet and cook until browned on all sides, about 6-8 minutes.
Remove the meatballs from the skillet and set them aside. In the same skillet, whisk the flour into the remaining butter until smooth. Gradually stir in the beef broth and heavy cream, whisking constantly until the gravy is smooth. Add sage, salt and pepper
Return the meatballs to the skillet and simmer in the gravy for 10-15 minutes, until cooked through and the creamy sauce has thickened.
Serve the Swedish meatballs with lingonberry sauce on the side, if desired.
A Tasty Delight
Swedish meatballs are a delicious and hearty dish that have become a staple of Swedish cuisine. With a unique blend of spices and a creamy gravy, they are sure to be a hit with anyone who tries them. Whether you make them at home or enjoy them at a Swedish restaurant, Swedish meatballs are a tasty delight from Scandinavia that is not to be missed.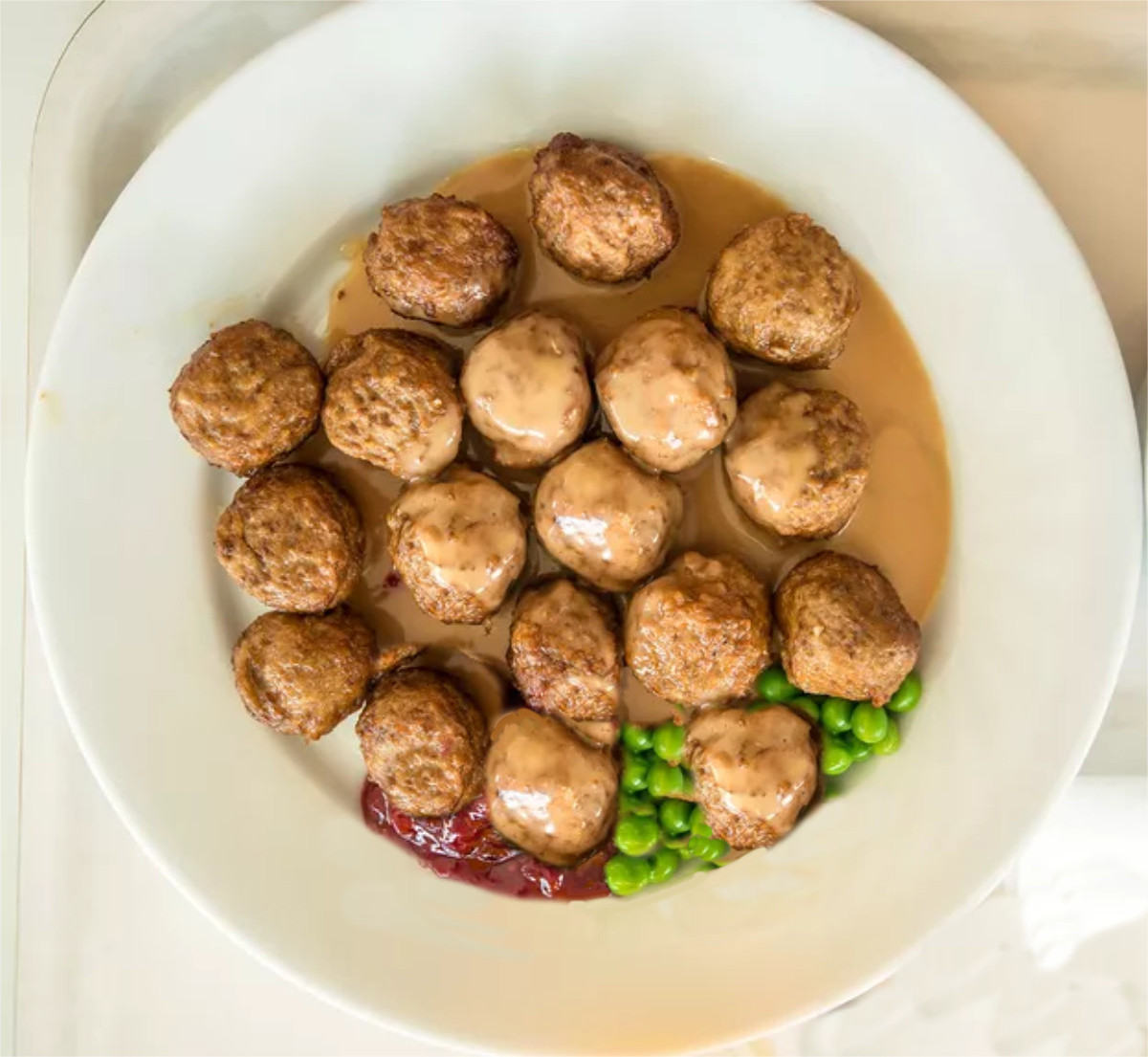 Inspiration
I've always enjoyed meatballs and I had started a blog post a year ago to talk about them. Then, as John Lennon said, "Life is what happens when you are making other plans", I was sidetracked by other jobs, such as managing and training the Irish Craft Butcher Team at the World Butchers' Challenge in Sacramento last September.
Recently I finished reading Steig Larsson's Millennium trilogy, which includes the popular novel "The Girl with the Dragon Tattoo," which is set in Sweden and includes several references to Swedish culture and cuisine.
In one scene, Lisabeth Salander, the protagonist, visits IKEA and enjoys a plate of Swedish meatballs in the store's restaurant. This scene, along with the popularity of IKEA's meatballs, has helped to introduce Swedish meatballs to a wider audience.
In addition, Sweden's recent win at the Eurovision Song Contest has put the country in the spotlight and generated interest in its culture and traditions. Swedish cuisine, including Swedish meatballs, is a key part of the country's culture and heritage, and has gained popularity in recent years.
With all these Swedish influences, I decided to resurrect a blog post I had started a year ago, about meatballs.
Tips and Variations
A few ideas to help you make a tasty Swedish style treat.
Meat: We used a combination of beef, pork and pork sausage meat for this recipe. The use of pork adds extra fat which will give a moister, more tender meatball. You can also use ground chicken, turkey, or a combination of meats. Remember very lean meats like chicken and turkey can be very dry. Consider using some fat to add juiciness.
Spices: The nutmeg and ginger are unique to this Swedish dish. Best to use them if you want a truly authentic Swedish dish.
Overmixing: Be Careful to not over-mix the ingredient mixture or it can become quite dense.
No Bread crumbs: You can get the same result by making a mixture of bread and milk called a panade. Break up two pieces of bread until they are in small pieces, add in ¼ cup milk and combine to create a paste. Add the egg and mix together. Add to your meat mixture.
Fry the onion: To bring out the oils and flavor in your onions fry them first. But grated onions are fine.
Bake: Brown the meatballs in the skillet in oil and butter. Then remove to a tray with a baking sheet and finish cooking in the oven at 180C (350 degrees F) till done (about 30 minutes).
Cream: Use full fat cream . You can also substitute some of the cream for sour cream for a nice tang to the sauce. If you can't get sour cream, use the juice of a lemon in regular cream as a cheat.
Accompaniments and Sides
Can be served with boiled rice, creamy mashed potato, buttered pasta, chips, egg noodles, roast potatoes. You can buy frozen Swedish meatballs in Ikea and a powdered version of the cream sauce, but where's the fun in that? And if you cook the meatballs for a family or guests, and they are as delicious as the ones I made, you will have serious bragging rights.
Swedish meatballs are a classic dish that can be enjoyed at home, in restaurants, and even in IKEA stores around the world. Their unique blend of spices and creamy gravy make them a comfort food that is loved by many. Whether you're a fan of Steig Larsson's novels, a Eurovision enthusiast, or simply a lover of good food, Traditional Swedish meatballs are a delicious and satisfying dish that is sure to please.
During Covid lockdown, because stores all over the world were shuttered, IKEA posted a how-to for their meatballs. It is done in the classic IKEA style used in their instruction leaflets. I like the way it mimics the leaflet and tells it's story very simply.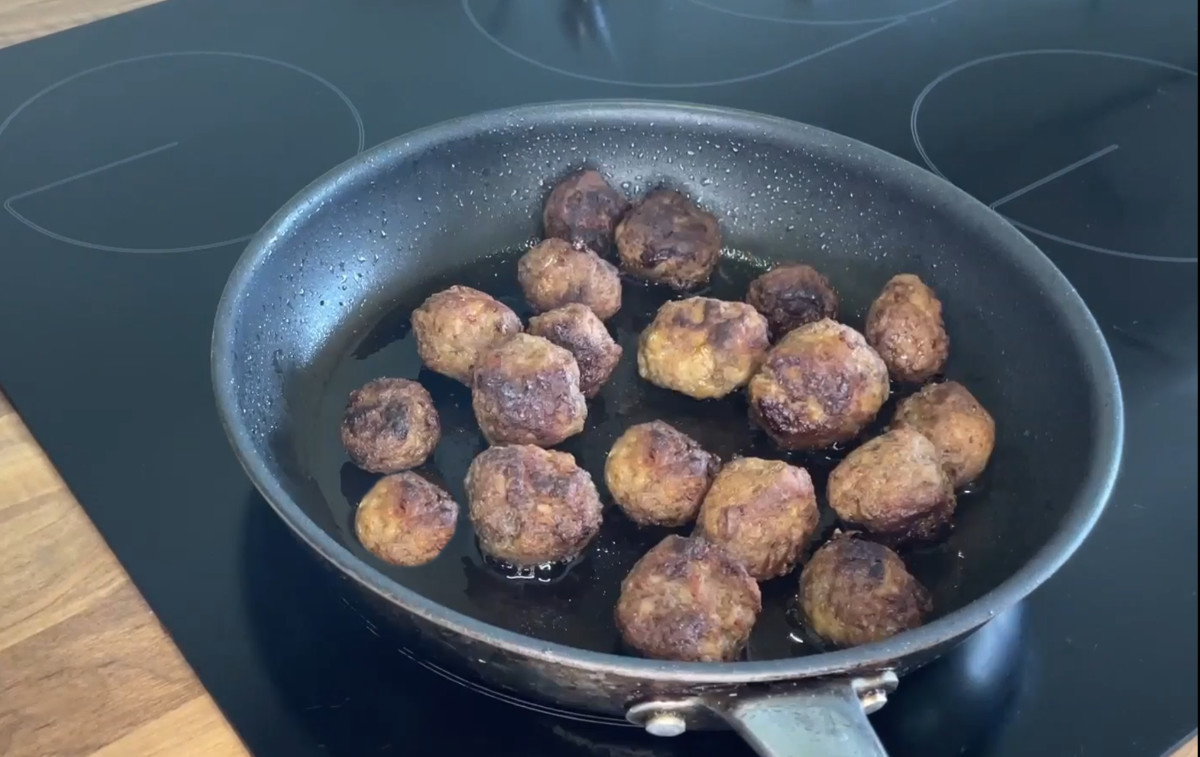 Swedish Meatball Q and A
Q: Can you substitute the type of meat used in One Pot Swedish meatballs?

A: You can use any combination of meats that suit you. But the classic recipe uses pork and beef for a reason. Fat from the pork and pork sausage meat makes the meat more moist. Turkey & chicken can be dry.

Q: What sides can you serve with one pot Swedish meatballs?

A: Can be served with boiled rice, creamy mashed potato, buttered pasta, chips, egg noodles, roast potatoes. You can even do a Swedish Meatball sub with a nice bread roll or demi-baguette. Cut the meatballs in half to fit in the roll.

Q: Can you freeze leftovers of one pot Swedish meatballs?

A: Yes, Swedish Meatballs freeze very well and will be OK in the freezer for 3 months. Wrap in freezer paper. Light plastic is not heavy enough.

Q: Can I do meatballs in the oven?

A: You can, but we recommend you brown them in a pan first.

Q: Are they actually Swedish?

A: Some historians say that the recipe was brought to Sweden by King Charles XII on his return from Istanbul in 1713. The first recipe for meatballs found in print was in a cookbook in 1754.

Q: Is it better to bake or pan-fry meatballs?

A: Pan frying is really the best method for Swedish meatballs because it gives them a nicely browned crust on the outside. In addition, the leftover pan juices greatly enhance the flavor of the cream sauce.

Q: How do you know when they're done cooking?

A: Use a meat thermometer to check for doneness. You'll know the meatballs are done cooking when their internal temperature reaches 74° (165°F).

Q: Are they gluten-free?

They can be, if you swap the breadcrumbs and flour for a gluten-free version. To keep gluten out of the sauce, reserve 1 cup of beef stock and mix it with ⅓ cup of cornstarch. Add it to the sauce at the end to thicken it up.

Q: Do I need to use Worcestershire sauce?

A: You can substitute soy sauce instead. But Worcestershire has a special umami the adds to the flavor.
Meatballs around the world
There were many national meat balls mentioned in the post I started last year, but I decided to concentrate on Swedish for this one, because I am a fan of this culinary treat. I will revisit the other countries' fare, such as Italian meatballs in a future post. There are many national meatball variations. I could do a blog post every week for a year to describe them all.