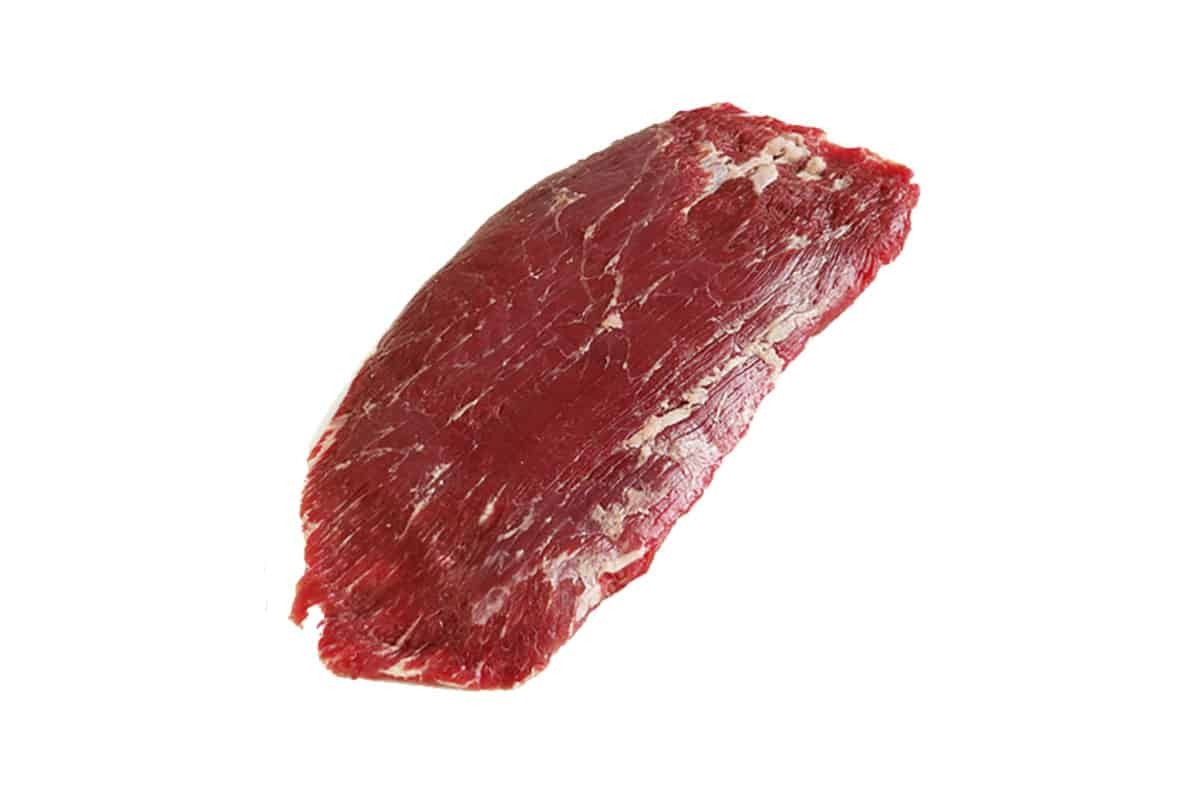 Flank is a lesser-known cut you should know about. The cut is great for fajitas, steak sandwiches, and beef olives (stuffed steak). It's a cheaper cut but has a fabulous beef flavour and is great for feeding the entire family.
What is Flank Steak?
Flank steak is a thin, lean cut from the abdominal wall of the cow.
A relatively long and flat cut of meat, flank steak is used in a variety of dishes including London broil and as an alternative to the traditional skirt steak in fajitas. You can grill it, pan-fry, broil, or braise it for increased tenderness.
Grain (meat fibre) is very apparent in flank steaks, as it comes from a well-exercised part of the cow, and many chefs cut across the grain to make the meat more tender. It is frequently used in Asian cuisine, often sold in Chinese markets as "stir-fry beef".
There are several main cuts known as flank steak, all from different areas on the beef carcase.
The most common cut is called the goose skirt (rectus abdominus). They sell this cut in the USA as Fajita meat.
We have skirt steak, hanger steak, matambre, and flank steak.
The term flank steak is a catch-all name for these cuts. This can be confusing. We will try to explain the differences between them. These are great value cuts of meat, but not well known. Chefs are highlighting them in their cooking these days and foodies are taking notice. Inevitably, the price of this delicious cut of beef will rise.
Other names for flank
The flank cut is common in parts of Colombia, where it is known as sobrebarriga, meaning "over the belly". In South America, a different, thin flank steak is called matambre in Spanish-speaking countries and fraldinha in Brazil.
Hanger Steak
Hanger steak is the central part of the diaphragm and is unusual in that there is only one hanger steak in the beef carcase. Most muscles come in pairs, i.e. one on either side.
Hanger, hanging tender, onglet (in French). This long, narrow muscle hangs in the middle of the diaphragm; hence the name. It's also called butcher's steak because some butchers would keep it for themselves in the days before it became popular. Hanger steak is the central part of the diaphragm and is unusual in that there is only one hanger steak in the beef carcase.
Hanger steak is often ground into mince for hamburgers. But some people think the grainy texture and intense flavour make it a superb steak (if marinated first). Best to cook rare. Any more and it will be tough. It's better known in France than in the USA, so you may have to ask your butcher to keep one for you.
Matambre
Matambre (cutaneous trunci) comes from the side of the cow, between the skin and the ribs. A thin rose coloured muscle, also known in meat-packing houses as "fly shaker" or "elephant ear". Matambre is also known as the "twitch" muscle because the animal makes it twitch or tremble to repel flying insects like flies. Broad and very thin, it lends itself to different stuffings. In Argentina it is popular and consumed rolled with vegetables.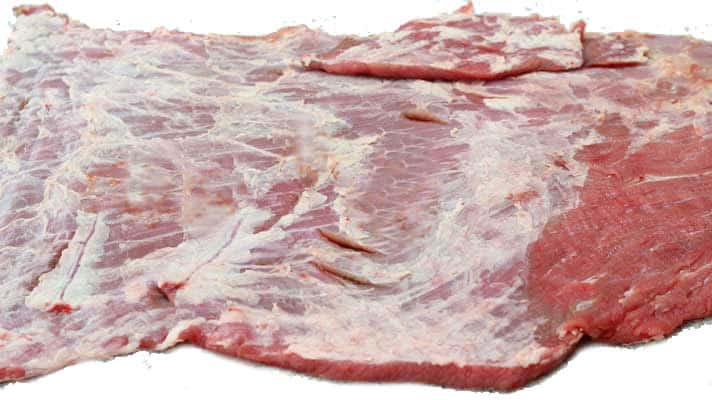 Bavette (Obliguus internus abdominis)
Bavette means bib in French. Sometimes the word is a catch-all phrase for thin steak. This is a large rectangular cut from the flank section with noticeable fibres running through it. It comes from the end of the T-Bone or Porterhouse steaks and was sometimes sold as sirloin ends. Often used in stir-fries.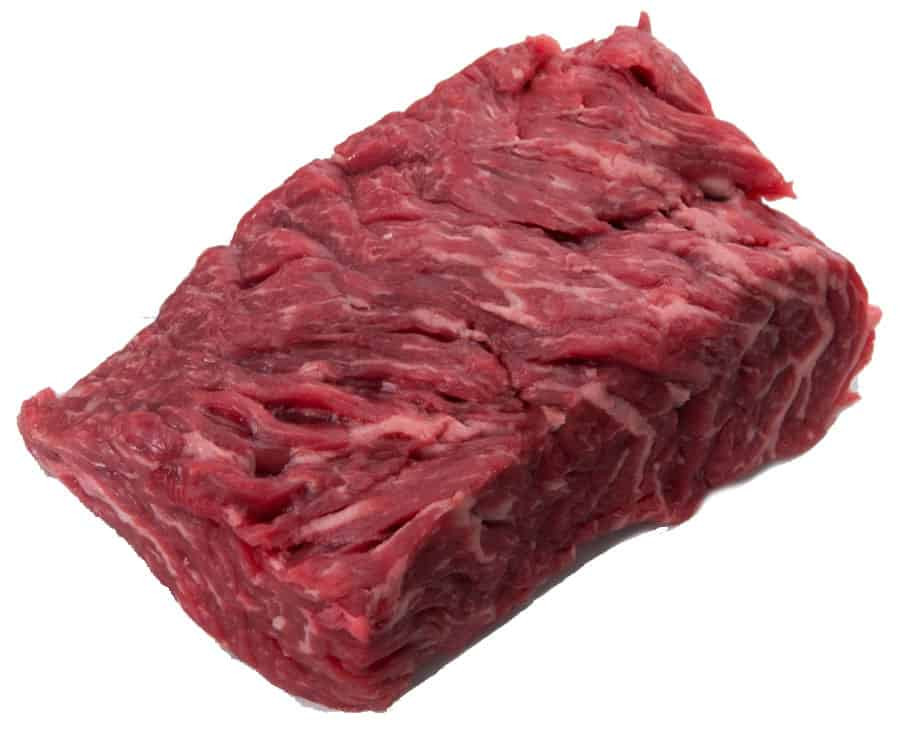 Skirt Steak
Skirt steak is from the outer diaphragm that separates the respiratory organs from the digestive organs of a cow.
This cut is also labeled as fajita meat in the USA because of its common use in Tex-Mex cooking. They look like thick-grained flank steaks, and they're the cut of preference for making fajitas. Since they're marbled with fat, they also make for very juicy steaks. It's best to flatten them, marinate briefly, and then cook over high heat.
There is an inside skirt and an outside skirt. The outside skirt is the diaphragm muscle. The inside is the hanger steak.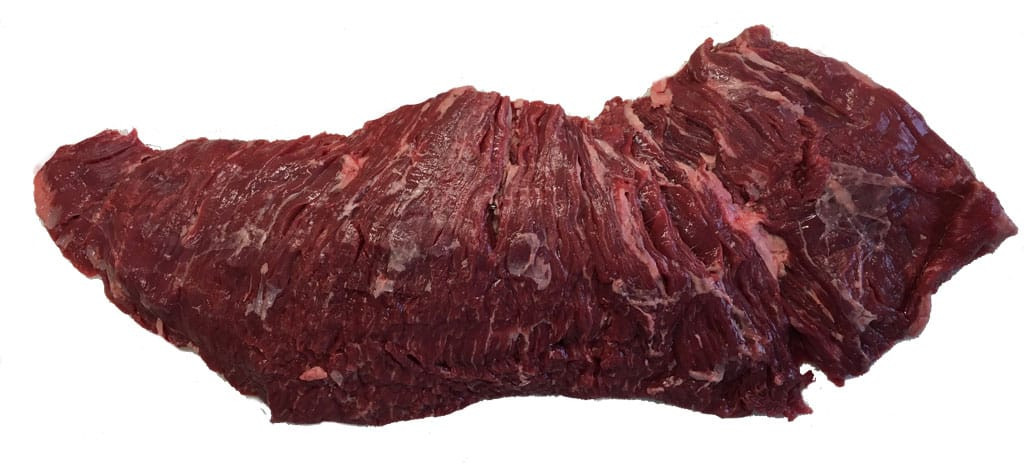 How to choose flank steak at your local butcher store
The best way to recognise tender flank steak is to look for cuts with minimal fat. Always ask your butcher for his advice.
How to cook flank steak
Flank steak is best served rare to medium-rare. Any further cooking will render it tough and dry.
Slicing flank steak
Flank steak is best sliced on the bias (an angle of 45 degrees) after cooking. Cut across the grain to get a bigger slice for more tenderness.
This is a lean, flat cut that's fairly tender and flavourful. Properly marinated, it's a wonderful steak to grill or broil, but don't overcook it or it will become tough. Before serving, cut the steak into thin slices at a slant against the grain.
Do you recommend pan seared flank steak?
Yes. Flank steak is best prepared pan seared for 2-3 minutes each side in a hot pan. This chars the meat before it goes the oven. It can be barbecued after marinating for 4 hours beforehand.
What is a flank steak roll up?
This is a flank steak that is stuffed and rolled then baked or roasted with stuffings of your choice. Sometimes stuffed with vegetables that cook inside the roll.
Can I bake flank steak?
Yes you can. But it's better to sear it on the pan and finish in the oven.
Best flank steak marinade recipe ever
Our favourite recipe ingredients are:
Ground Black Pepper, oil, crushed garlic and balsamic vinegar.
The acidity of the balsamic tenderises and the pepper and garlic flavours the cut. Try it using quantities according to your personal taste. Note: the meat will turn black after marinating. This is normal.
Alternatively, make a marinade using ginger, chilli flakes, lime juice, soy sauce and scallion, again using quantities to your taste.
What can I serve with flank steak?
This cut goes well with french fries, roast or mashed potatoes.
Why is flank steak good for beef jerky?
Flank, being a flat muscle, works well in jerky because it will dry quickly and cuts into nice strips.
Other cuts sometimes sold as flank steak:
Flatiron, also known as feather blade (infraspinatus).
Difficult to find in markets, this popular restaurant steak comes from the chuck or shoulder. It's reckoned to be the second most tender steak in the beef carcase, but has gristle between the two muscles.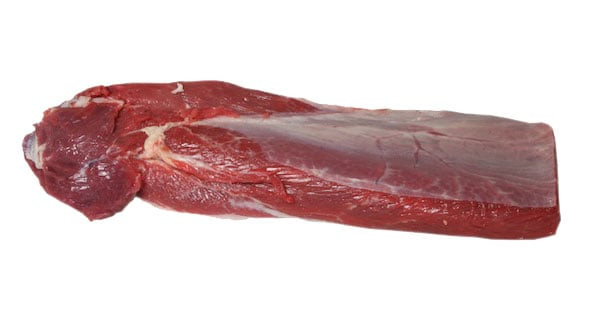 Topside Cap
Topside Cap (Gracilis) is the thin top layer of the Topside. Sold rolled and stuffed with the fat trimmed.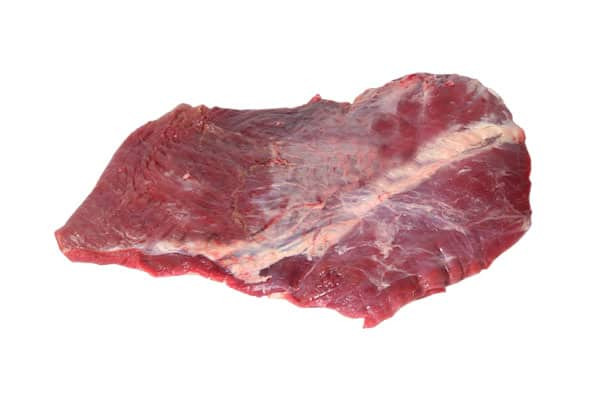 ---