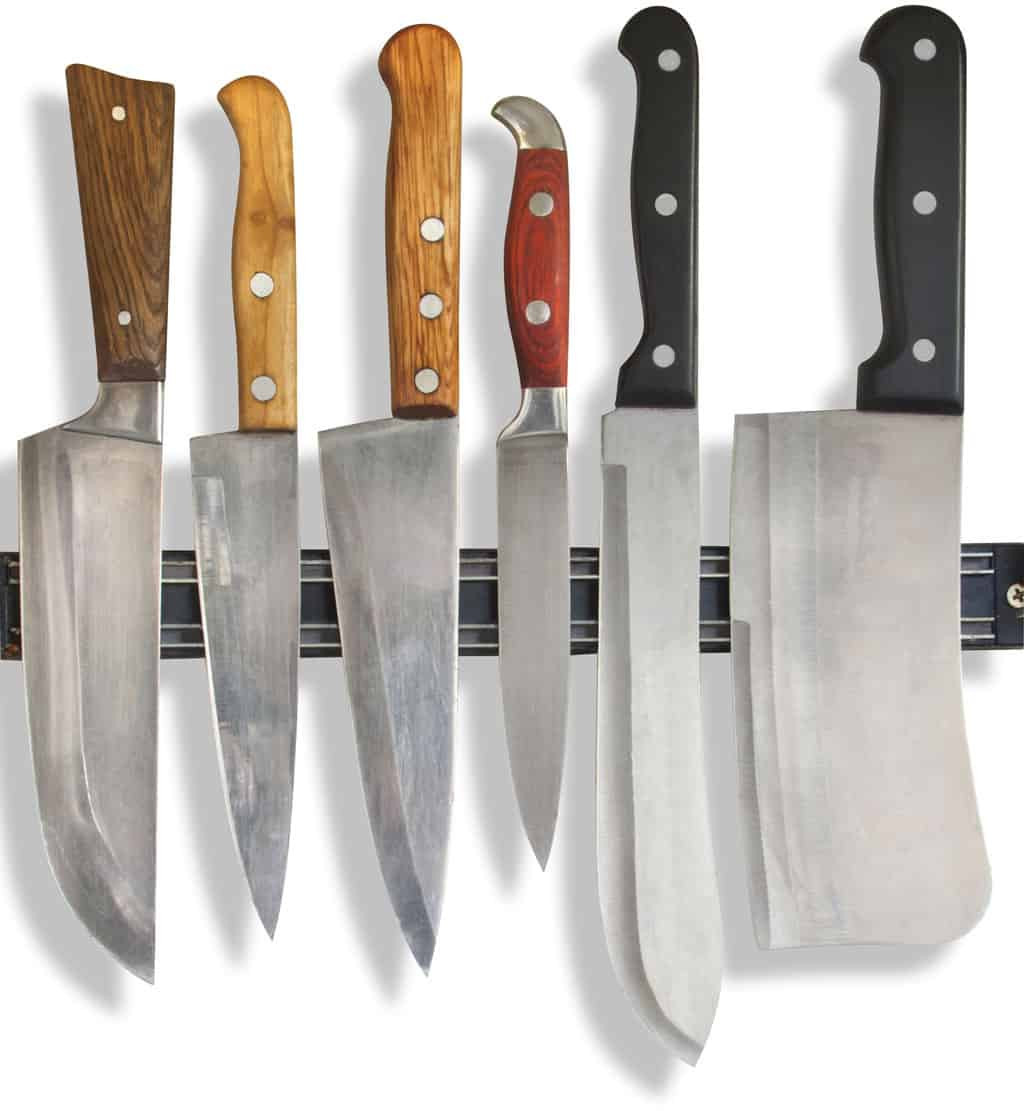 Do you know the difference between a fillet knife and a steak knife? In this article, I will discuss butcher knives and how they differ from kitchen knives. A Butchers steak knife is not the same as a restaurant's steak knife or a chef's knife. There are fundamental differences between fillet knives and those used for boning and cutting steak. I'm going to show you the difference between the various knives and how to use and take care of them. I've been a butcher for over 40 years and I'm highly qualified to give advice on knives. Be careful if you're just starting out with food prep. It's a dangerous sport for the reckless.
Is a fillet knife better than a steak knife or a boning knife?
It depends on what you are using the knife for. A steak knife is too big for boning or filleting, but you could use a boning knife or a fillet knife to cut steaks. A steak knife is either a scimitar (curved vs straight) or a bullnose. They are both good and it is really down to personal preference.
A steak knife comes in various sizes, 8", 10", 12", wooden or Fibrox handle.
A fillet knife/ boning knife comes in various formats, curved, straight, rigid, flexible, 5", 6", 7",8", wooden handle or Fibrox handle.
Pick whatever is most comfortable for you.
Who makes the best butcher steak knives?
There are many contenders, but our favourite for butcher steak knife is Victorinox. They are very well made, hold their edge well and we even have one Victorinox steak knife that is over 30 years old.
The secret?
Never use a grindstone, only an oilstone
Using a grindstone means you end up with a lot less knife in a very short time. Grinding a knife just removes the steel and if you overdo it you can overheat the steel, ruining the knife. Victorinox makes many different knives for skinning, sticking, breaking, slicing, boning and filleting, etc. They are not the cheapest, but do you really want a cheap knife?
Buy the best and you will have the best. However, it is best to use a knife for the specific job it was made for unless you want to hack the meat you are working with. We are believers in neat cutting and tidy working.
Never use a butcher knife to cut cardboard, paper or plastic. If it isn't meat, don't use a meat knife to cut it. You will destroy your knife. We like to wear our knives in a scabbard on a belt so we always have them safely beside us. A metal scabbard is easier to clean than a plastic one. The plastic version gets scored and discoloured very easily, but the metal scabbard can be washed in hot water and always looks better in front of customers. Wash and dry your knives regularly to keep them in the best condition.
Use the best butcher knives known for quality construction, such as Victorinox. Cheap knives are just that, cheap knives.
Kitchen Knives
The range of knives for a kitchen is pretty large, but you can cut it down to a few essentials:
A Chef's knife, heavy, 8-inch for dicing or slicing fruit, meat, vegetables and fish.
A paring knife, 3 – 4 inch for fine chopping
A serrated edged knife, 6-10 inch for bread, for hard skinned fruit and vegetables.
A fillet or boning knife, flexible, 5-6 inch for removing bones from/filleting meat, fish and poultry
A steel, metal or ceramic for honing your knives. Note: Not suitable for a serrated edged knife.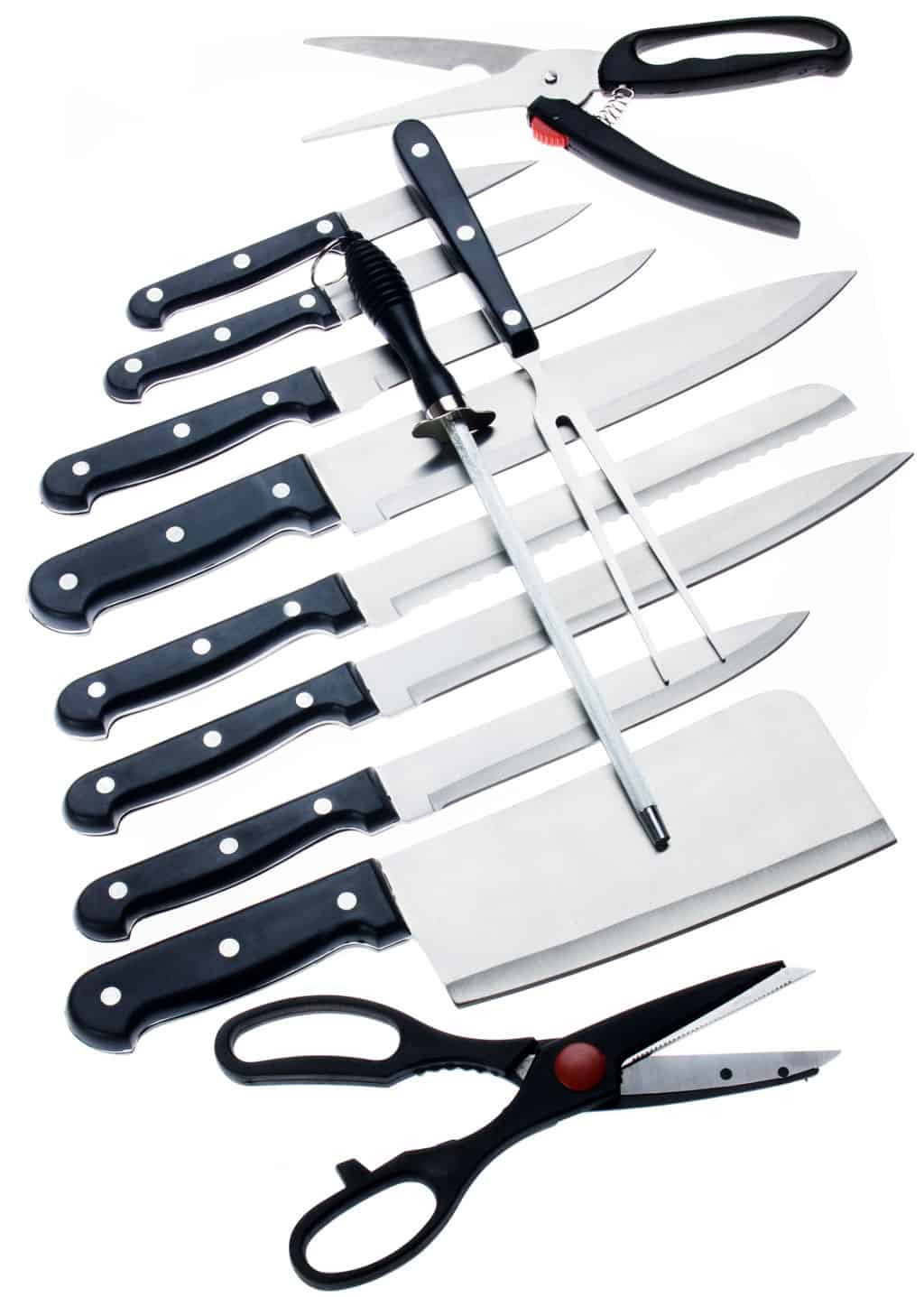 Using a steel
When you use a steel you are not sharpening your knife, just honing it.
In use, the very fine cutting edge gets pushed to one side or the other and running it on a steel re-centres the edge.
You will see butcher's honing knives on a steel very quickly. They have had years of practice. Until you have had a lot of practice using a steel we recommend you take it slowly. Angle the knife against the steel at about 20-25 degrees and move the knife against the steel. Change to the other side of the knife and repeat. Do this about a half dozen times and you will keep your knife in tip-top condition.
We particularly like Zwilling kitchen knives by JA Henckels for their construction, how they feel in the hand and they are also very good value for knives of that quality.
Using an oilstone
This is the best way to keep your knives sharp:
Put a thin layer of oil on the rough side of your oilstone.
With your fingers on the back of the blade and your dominant hand holding the knife by the handle, rub the knife at an angle of 15-20 degrees in a circular motion first on one side for a minute, then repeat on the other side.
Do this a couple of times on each side, the turn the oilstone over to the fine side and repeat these actions.
Wash and dry your knife, run it on the steel a couple of times and you are ready to work
Remember, these knives are designed for cutting flesh. Try to make sure it is not your flesh that it cuts. If you are a beginner, you can buy a chain mail glove to protect your non-knife hand. They are pricey, but so is a visit to A&E.
Respect your knives, use them properly and they will give you excellent service.