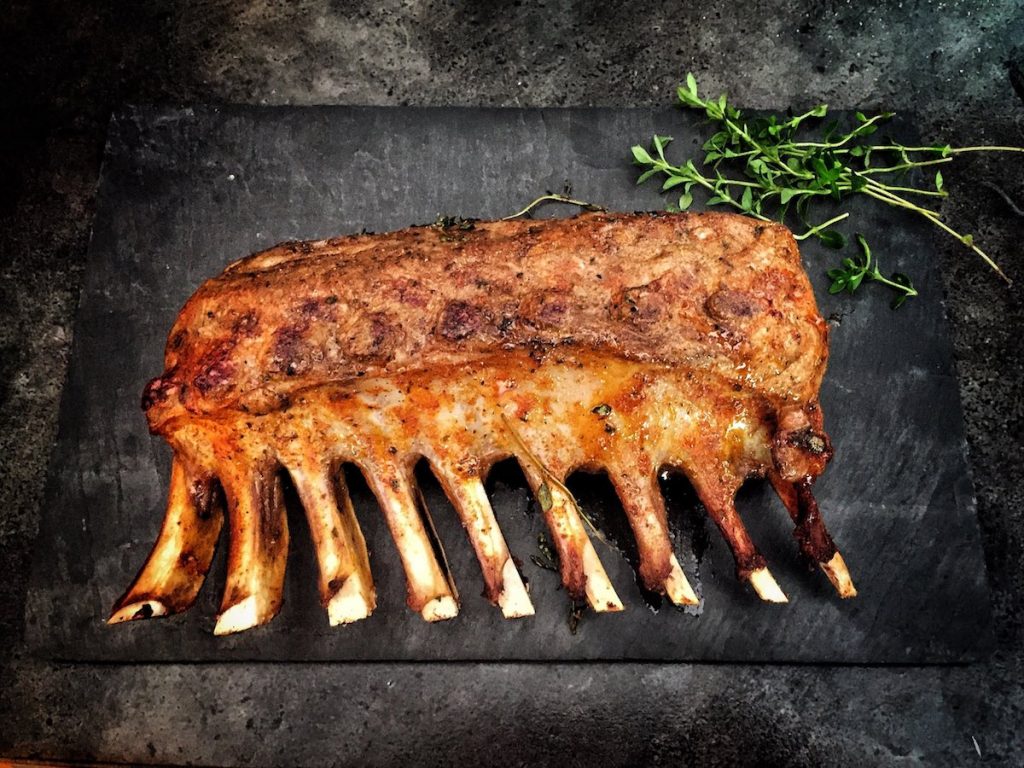 As Christmas approaches, we think of turkey and ham as the centrepiece of the Christmas feast, but there are a growing number of people who are happy to try something different. Some of the alternatives are Goose, Duck, Pork, Spiced Beef, Rib Roast on the bone, and to be really different, why not try a Three Bird Roast?
Goose always used to be the favoured bird at the Christmas table. For centuries geese were marched from their breeding grounds in the country, on trips that might take weeks, to the outskirts of the cities, where they would be re-fattened for market.
Goose
Goose has had a reputation for being fatty but if you prick the skin and cook it on a rack, the fat will all run away – and give you the perfect medium in which to cook your roast potatoes! If you are ordering one from your butcher, look out for that golden-yellow skin which is the sign that it has been grass-fed. Pale, whitish skin indicates some other type of feeding and rearing. An 11-12 lb (5-5.5 kg) bird is the ideal weight and will serve eight people quite generously.
Duck
Duck is another bird that has become popular at Christmas. There are those that adore crispy duck skin and wouldn't settle for anything less. Again, cooking on a rack will ensure the fat runs off and can be used to roast potatoes.
Pork
Leg of Pork roasted was a very popular choice some years back but seems to have fallen out of favour of late. With crispy crackling and sausage meat stuffing, it's a feast not to be forgotten. Order early to make sure your butcher will have the piece you want.
Beef
There are many claims for what county came up with spiced beef, not least the rivalry between Cork and Dublin.
There are also many recipes for spiced beef, and the best one we've found is this:
Cover the beef with half Guinness and half water in a large pot.
Bring to the boil, turn the heat down do a brisk simmer and cook for 90 minutes.
Leave in the pot and allow to go cold (overnight if necessary).
Take out of the liquid and allow to drain off. Can be served as part of the main course, but is absolutely fabulous sliced very thinly and served with brown bread as a starter.
Rib Roast on the bone is another dish we seem to have forgotten about. A nice covering of fat, with some nice marbling, gives that beef flavour that can bring you back to childhood days. Ask your butcher well in advance to keep a well-hung rib roast for you. Some swear they will never eat turkey again after having rib of beef on the bone.
Chicken
A turducken is a dish consisting of a deboned chicken stuffed into a deboned duck, which itself is stuffed into a deboned turkey. The word turducken is a portmanteau of turkey, duck, and chicken. Three Bird Roast is the usual name now
Three Bird Roast
A Three Bird Roast was a very old method that was revived a few years back by Cajun chef Paul Prudhomme in Louisiana. It used to be a very large roast but local butchers can do a smaller version for you. It is cooked the same way as a boneless turkey and it cuts beautifully giving a layer of Turkey, a layer of Duck and a layer of Chicken, with stuffing in between each. Delicious!
And Turkey
And finally back to turkey. You don't have to buy a full bird if you don't have the people to eat it or room in your oven. Your butcher will sell you a turkey crown (Turkey without the legs), a turkey butterfly ( a boneless crown), or simply a piece of turkey breast cut to the size you require.
Remember to order in good time to avoid disappointment and when collecting your Christmas fare, stock up on sausages, rashers, black and white pudding and of course goose fat, to make sure your Christmas feast has everything you need.