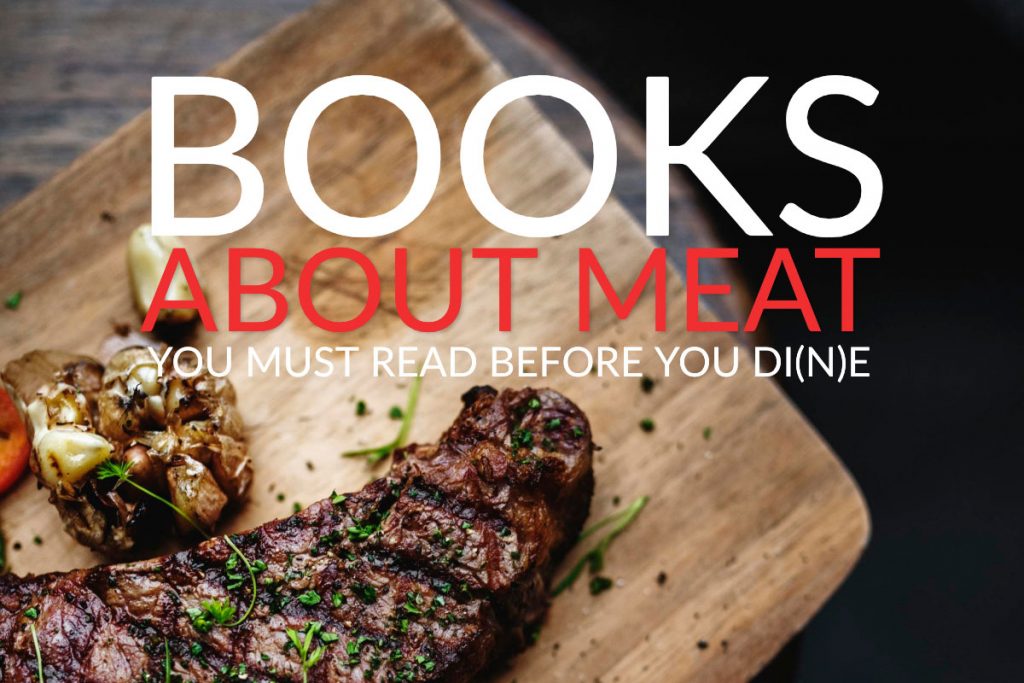 You will probably never read a "Sunday Times Best Books About Meat" article so we decided to do our own. Yes, we know it is a niche subject, but if you eat meat regularly or work with meat, you would want to know more about it, right?
The authors of the books in this list have done the research for you and fascinating it is too. And just to help out we've read the books for you and summarized them. You're welcome.
Buying and Cooking with Meat
Meat has become commodified. You can buy it anywhere, supermarkets, forecourts, even from vending machines and with little or no provenance. For such an important food it is unsettling to realise that in many cases we know nothing about where our meat comes from and how it gets from the farm to our tables. We often don't know how the animals lived and died and how and where the meat was butchered.
Quality assurance programs in many countries attempt to set standards for meat production. In some cases, these programs have been hijacked by the big producers and retailers to add credence to their meat offering. Some of the quality assurance programs concentrate on the quality of production, on animal welfare, on hygiene, and that's important, but the actual quality of the meat is an unknown and needs to be overseen by experts. By experts, I mean experienced artisan butchers, farmers, herdsmen. Not food scientists, who are of course necessary, but have a limited view of meat quality.
Only by working with animals, feeding, tending and nurturing, rearing them to the right age and weight, slaughtering humanely and maturing under controlled conditions can meat quality be assured. And of course not everyone has the time to research fully the journey their food takes from farm to fork, so these books are invaluable in demystifying the whys and wherefores of what you should be looking for when you buy quality meat.
The authors of the following books came at the subject from several different directions and between them, there is a vast range of knowledge.
Food books can be faddy. The latest diet or the trending food item catches the attention quicker than a well researched, in-depth, knowledgeable book about real food. These books are not trendy and don't promise to make you look like a million dollars. They tell their story with passion and solid belief. One thing they all have in common is passion. The writers all love what they do and want to share the knowledge and passion. If only all our food was produced with that kind of honesty and love we would all be a lot healthier.
One thing they all have in common is passion
With all the books about meat, and there are many, we still haven't come across the definitive book on European butchery. Looks like we'll have to write our own. In the meantime check out our meat preparation course, ButcherCraft.
If you've read this far you have a genuine interest in meat and butchery.
Read them all.You won't be sorry.
Want to learn more about butchery, meat cutting skills, and food preparation?
Check out ButcherCraft, our online butchery classes.
The Ethical Meat Handbook by Meredith Leigh
There's a great line in the introduction to this book that says
"If you don't love food, put this book down. Now."
And another in the text, "high-density rotational grazing of livestock is the only way to restore much of the earth's land." We completely agree and endorse this.
What else makes total sense:
Grindstones grind your knife down. Tick
Oilstones or whetstones are the best way to sharpen knives. Tick
Wooden cutting surfaces are best. Tick
The author has experience on a working farm and in a butcher shop and understands the economics of both sides of the coin. She says, ruefully, that Americans eat 16 times more beef than lamb annually and she believes that is because the flavour of lamb is quite mild and Americans love big flavours. More than half of the lamb sold in the US is imported and farmers see no economic benefits from running small numbers of lamb on their land. Lamb is almost a niche market there.
The book includes step by step photos of beef, lamb and pork butchery and a number of interesting sections, like how to make tallow (dripping) from beef suet, beef jerky, sausage making, bresaola and other charcuteries.
This book also examines the ethical side of beef production and takes apart some of the claims the big companies use to market their beef. Very good on the economics of producing sustainable food on a small scale while trying to compete in the marketplace with huge companies that have vertically integrated production. Some in-depth information about breeds, butchery equipment, charcuterie and techniques. Knowledgeable and caring, and particularly impressive coming from an ex-vegetarian who has looked into food production in some detail.
All in all a thoughtful and thought provoking look at butchery from various angles.

Steak by Mark Schatzker
Mark Schatzker is a journalist and field reporter for the Dr. Oz Show.
Mark travelled to eight different countries to learn about the best breeds and production methods. Schatzker likes to talk about "terroir" for meat in the wine context, i.e, the land the animals were raised on, the feed, the breed, the weather and the animal husbandry. He's gone as far as rearing and slaughtering his own cow to fully understand the process of meat production. And he doesn't waste anything, judging by the cowhide rug in his home that he made from the very cow he reared.
Mark documents the history of domestication of cattle from the primitive aurochs to the present-day breed specialisation and national pride in the better-known breeds.
"Passionate about steak, award-winning food and travel writer Mark Schatzker sets off in a quest for perfection in the art of cooking beef. His odyssey takes him thousands of miles through eight countries, and sees him tuck into more than 100 lbs of steak. He gasps for air on Texas feedlots; dodges the descendants of prehistoric aurochs in France; encounters grass-fed glory in Scotland and fervent localism in Italy; debunks the myth of beer-massaged cows in Kobe; and admires Argentinian grilling savvy. Schatzker also discovers that, whilst there's a lot of steak around, there's not a lot of great steak. To determine why this might be, he meets with ranchers, chefs, experts on flavour and animal welfare and even chemists and historians. Some key issues that emerge include breed integrity, marbling, grass versus grain feed, slaughterhouse conditions and industrial practices designed solely to maximize output." From the description on Amazon.com.
Some fairly intense investigation goes into this book and some great background information on steak. Why one is better than another, the pros and cons of the different breeds and his impressions of the cooked product. He doesn't come down squarely on either side in the pasture/feedlot argument, seeing merit on both sides. A great read, even for the uninitiated.
The Art of Beef Cutting by Kari Underly
Kari Underly is an American butcher and entrepreneur from a butchery family. Her book illustrates the proper (American) cutting techniques for a side of beef and is very good on details of cutting and choosing quality meat.
Written from an experienced butcher's point of view it is full of beef knowledge and information that will be valuable to chefs, home cooks as well as butchers.
Kari also points out that training in butchery on whole animals has almost become a thing of the past. Butcher shop owners want trained personnel, but want someone else to carry the cost of the training. The book contains diagrams relating to boneless primals (e.g. rib, brisket) but nothing on larger, bone-in primals or how to bone them. However, it has some excellent sections on yield, pricing and cooking suggestions and is an excellent resource for cutters in grocery stores in the USA.
A comprehensive glossary of cut names in three languages is very useful owing to the multiplicity of names for similar cuts of meat.

The River Cottage Meat Book by Hugh Fearnley-Whittingstall
Hugh Fearnley-Whittingstall is a food writer and author of the very successful River Cottage series of books and TV programs.
His book, The River Cottage Meat Book is an essential read for anyone who cares about their food, particularly meat. The ethical argument between meat eaters and vegetarians/vegans is discussed in detail with both factions' points of view examined carefully. There is also discussion about sustainable meat production, grass fed versus grain fed, dry-aging versus wet-aging and why buying locally is the right thing to do on so many levels.
The book looks in detail at Beef and Veal, Lamb and Mutton, Pork and Bacon, Poultry, Game and a subject close to our heart (pun intended), Offal. Nothing is wasted and the ethos is, if you are going to kill an animal for food, you have to respect its sacrifice by eating it all.
There is a wealth of information on curing and preservation, sausage and pudding making and while it is a large book, 542 pages, every page is worth the read.

It comes across very clearly that Hugh is passionate about good, sustainable, local food and explains the benefits of sourcing meat locally. He accompanied two of his own cattle to slaughter and photographed all stages to dispel the lies about animal cruelty in a properly run small abattoir. Hugh is very good on nose-to-tail butchery and looks at every cut and shows how to get the best from them. Recipes for 150 classic meat meals.

Meat : All You Need To Know by Pat Lafrieda
Pat Lafrieda is a third generation butcher in New York whose company supplies some of the most highly renowned restaurants in America. Supplying 500 restaurants across America and making up to 100,000 burgers every day to custom recipes, Pat has become known as the "Magician of Meat" through his TV appearances and recommendations from some of the best known chefs in the USA. as he says in the book's introduction, they supply "dry-aged steaks, milk-fed veal, Colorado lamb, and custom chopped meat blends." (Excerpt From: Pat LaFrieda. "MEAT". Apple Books.)
Pat advises on knives and equipment, interestingly recommending only two knives as the ideal setup. We agree with Pat on that one but we part company when it comes to working surfaces. Pat recommends using nylon cutting boards and has no time for wooden blocks. We have a completely opposite view. The wooden block is much more sanitary than nylon, provided it is looked after and cleaned properly. However, it is clear from reading the book that Pat loves what he does and is very knowledgeable on the subject.
We will agree to disagree with Pat regarding grass fed beef. He doesn't rate it, we do.
The book contains plenty of great tips on American butchery and some very good recipes.
Pat's business shifts huge quantities of meat every day, and he is the CEO of a very large company but he has shown he has the chops from working alongside his father from a very young age.

There's also a great background story of how the Lafrieda family made their business stand out from all the other wholesale butchers looking for the same business.

An Irish Butcher Shop by Pat Whelan
Pat Whelan is an Irish butcher who has created a unique chain of butcher shops.
Starting in Clonmel, County Tipperary with one shop, he now has eight and there are more planned. As in other books in this blog, the ethos of total respect for the animal shines through in the care and attention that goes into providing quality meat for his customers. In Ireland, Pat is the go-to guy if ever the newspapers want a quote about butchery.

Pat has won awards for his meat products particularly his beef dripping (tallow), which won the Golden Fork Award, beating 10,000 products in The Great Taste Awards.
Pat obviously loves what he does and that comes through in the book and in his butcher shops.
Heat : An Amateur's Adventures as Kitchen Slave, Line Cook, Pasta-Maker, and Apprentice to a Dante-Quoting Butcher in Tuscany by Bill Buford
Bill is an American journalist that worked (unpaid) with Mario Batali in his restaurant.
He apprenticed himself (unpaid) to Dario Cecchini in Tuscany to learn butchery from a master.
Bill calls himself "an enthusiastic, but generally disorganised amateur chef".
Sex, drugs and rock'n'roll are not what you expect to find in a food book, but this one has it all, with Dario's love of AC/DC and some of Mario's early exploits, there a soap opera waiting to be written in there somewhere.
This is a roller coaster ride and great fun, with a serious heart. He really does want to learn. The Dario episodes are very entertaining.

Great writing and great stories about food, particularly meat.

English Food by Jane Grigson
First published in 1974, republished 1993, Jane was in the forefront of the real food, nose-to-tail movement, a tradition carried on today by her daughter Sophie.
Jane was probably ahead of her time by being old-fashioned, if that makes sense. She quotes from very old cookbooks and the stories and methods are still relevant to the present day. All through the book is the search for quality ingredients, something we should all be doing.
Recipes and anecdotes combine to tell a tale of cookery passion and a love of real ingredients. We even found a recipe for faggots that we hadn't made in many years.

The Complete Nose to Tail by Fergus Henderson
Another book where every part of the animal is given the same attention to detail and the tail is as important as the loin or the belly. If you love pork as much as we do, you'll enjoy this one.
Fergus had no formal training in cooking, and has never worked under any other chef. However, he was awarded a Michelin star for the St. John restaurant in London so it proves that passion sometimes wins over technique.
A quote from the introduction tells you a lot about the author: "Nose to tail eating means it would be disingenuous to the animal not to make the most of the whole beast; there is a set of delights, textural and flavoursome, which lie beyond the fillet."

Highly rated by Mario Batali and Anthony Bourdain. And us.

Pig : A Passion for Pork by Johnnie Mountain
Johnnie mountain is a colourful character in a cast of colourful characters. He once walked of the set of The Great British Menu after a two Michelin star judge gave his dish low marks. And his English Pig restaurant had to close after the deal went sideways with no written contract. But passionate foodies do not necessarily make good businesspeople and maybe it would be best to deal with just the food, if that's where your talent lies.

For pork fanatics everywhere. Mouth-watering recipes, some we've never come across before.
It's clear that Johnnie loves pork and you will be drawn into exploring all the piggy delights on offer after reading this.

Great use of the whole animal, great info about pig breeds and great photography.
Using QR codes on the pages you can access the How-To section of the website.

Beef & Veal : The Good Cook Series Time-Life Books
This is a real classic. Fairly old school now, but certain things don't change with time. Obviously published at a time when there were some real butcher shops left in America. You'd find it hard to get some of those cuts in a supermarket.
We are glad nobody ever asked us to do what is on page 62. Boning and stuffing an oxtail. We've never done it and we are not sure even if we could. It looks very tricky and would probably take ages to do properly.
There was a digital version of this book some years back. In fact, there is a whole series on all types of food and drink. It's from 1978 and amazingly is still available, if you can get a copy, grab it. Lots of good info about beef and veal, cookery methods and some good butchery information as well.