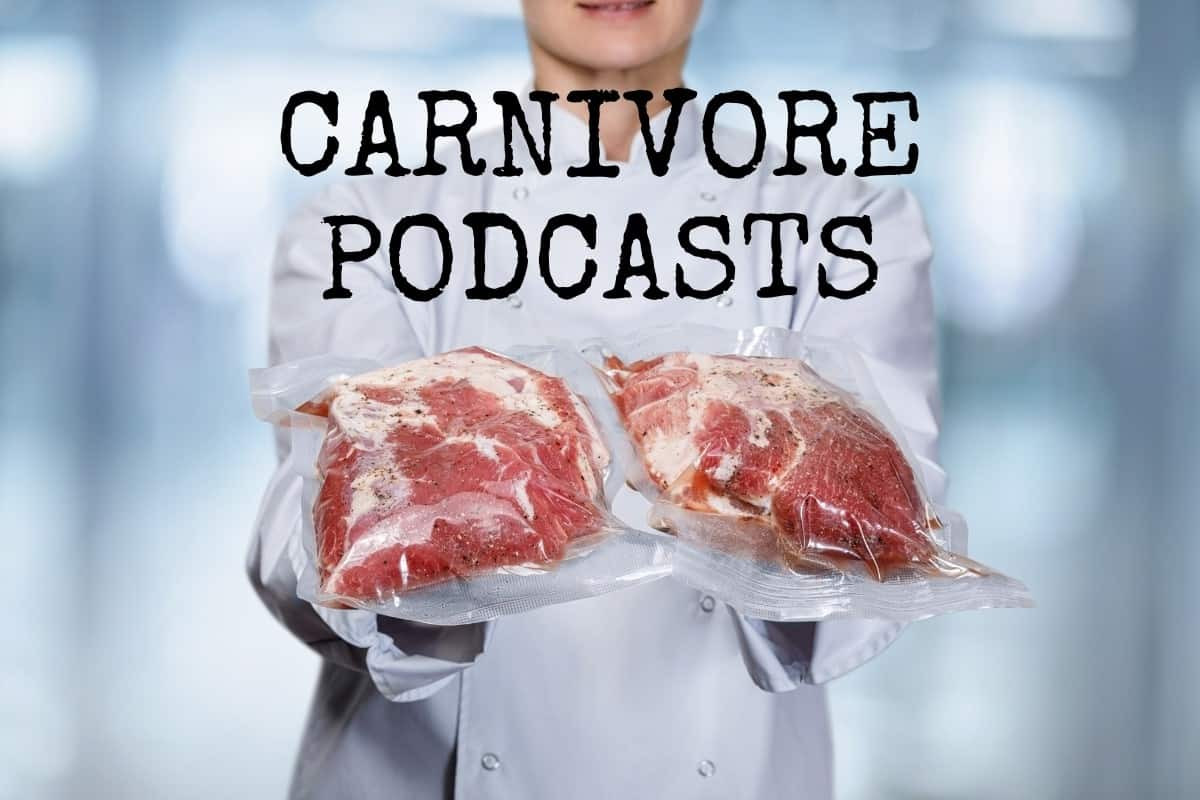 The carnivore diet is not the most widely represented in the media. So, you might be curious about its health benefits and how to try it. But without an expert's help, it can be overwhelming to research it yourself.
These podcasts are great for making informed decisions on a carnivore diet. Some will teach you delicious cooking tricks. Others feature expert scientists to help you understand what happens in your body when you eat more meat.
Here are nine of the best carnivore podcasts to stick on your smartphone.
The Meat Block
The Meat Block follows two people, Travis and David. Travis is a butcher who has extensive experience in the charcuterie and sausage industry. Meanwhile, David is a small-scale farmer who managed livestock. Together, they give you tons of insider knowledge on working in the meat industry.
Podcast episodes include topics like how to improve your resume and when to leave a food job. Sometimes, they feature guest speakers like food writer Jess Pryles and Chicago butcher Rob Levitt.
The Meat Block is informative, but with a lot of conversation and banter to go with it. Even if you don't want to work in the meat industry, this podcast is fun to tune into.
MeatRx
Dr. Shawn Baker, orthopedic surgeon, is the CEO of the company called MeatRx. He offers coaching, meal plans, and access to a community with daily meetings.
The MeatRx podcast is an extension of his perspectives on the carnivore diet. In every episode, he interviews people from diverse backgrounds like doctors, researchers, and cooks. One noteworthy feature is how he brings in regular people who used a meat-based diet to cure health conditions.
Dr. Baker explains the science in an approachable, easy-to-understand manner. It helps you feel like you're doing more than a carnivore diet. Instead, you're joining a new lifestyle and community
Primal Edge Health
Tristan Haggard is the host of Primal Edge Health, which focuses on a keto carnivore diet. He brings a holistic approach to the topic. Different episodes cover thought-provoking factors like regenerative culture, unrefined foods, and how keto developed. It's a bridge between the carnivore diet and culture.
Haggard's platform invites more discussion and debate than other podcasts. He engages with former vegans and allows guests to call in and join. The style leans toward opinionated, so this podcast might be more approachable for advanced carnivores. However, you might like the 'edge' it brings by giving honest opinions on a meat-based diet, zero carb diets, saturated fats, and other potential taboos in modern society.
Carnivore Cast
In Carnivore Cast, host Scott Myslinski interviews lots of different guests who offer advice and tips on doing the carnivore diet properly. Myslinski looks at the science behind keto and how you can reduce your carb and sugar intake. Guest appearances by famous food bloggers like Ashley Stevenson bring more perspectives and recipes using animal foods, organ meats, and low carb diet principles to the table.
Carnivore Cast's tone is respectful, open-minded, down-to-earth, and nuanced. Myslinski is a great interviewer, asking people detailed questions like what they ate today. He also provides further learning resources under different episodes. It's an approachable podcast that both carnivore amateurs and veterans can enjoy.
The Black Carnivore
The Black Carnivore's host is Ede, a woman with a family history of health issues like heart disease. Ede covers the carnivore diet from this perspective, focusing on how it can benefit your body, energy, and fitness.
She discusses carb addiction, weight loss, muscle growth, and blood pressure. She bridges those talks with episodes on other important topics of the carnivore diet like regenerative farming.
Ede has brought in a variety of people to interview. One of them, Judy Cho, is Carnivore Cure's author and lends a nutritionist's perspective to the discussion.
Ede also connects to the black carnivore community. With black farmers and nutrition coaches on the show, you get plenty of actionable information to help you lead a carnivore lifestyle.
The Black Carnivore
Meatgistics Podcast: From Animal To Edible
The Meatgistics Podcast focuses on sausage and beer. Each week, hosts John and Austin review a different drink and sausage for hungry listeners. They also provide helpful tips for DIY cooking. In one episode, they teach you how to make tender jerky from home.
Part of what makes Meatgistics unique is how they invite hunters and fishers. If you're interested in hunting your food, you can listen to firearm users' tips and tricks. Other things you'll learn include seasonings and the shelf life of meat. Overall, it's a fun, tasty podcast to improve your carnivore diet recipes.
Fundamental Health
Dr. Paul Saladino, MD, is the host of Fundamental Health. He gives a highly detailed, well-researched approach to the carnivore diet. But he does it without being dogmatic or having too much jargon. Instead, his podcast focuses on breaking down information to adjust nutrition choices for yourself.
Fundamental Health focuses not just on meat but everything that can help you follow the optimal diet for your health. Gut issues, nutrition, chronic disease, and supplements are all covered. In one episode, Dr. Saladino discusses whether coffee worsens fibromyalgia. He has also compared Western Medicine to Chinese Medicine, keeping a critical eye on popular research. Plenty of listeners feel more educated and motivated to continue a diet right in organ meat and low in seed oils after listening to this podcast.
Fat Fuelled Family
Parents Danny and Maura Vega run this podcast, where they discuss how to make a keto lifestyle work for you and your family. They include their children in their diet, using a mixture of health knowledge and motivational care to support their strength and growth.
Both parents cover family-angled ways to eat, like how to handle it when people peer pressure their children to eat differently. You'll learn how to keep your kids active, avoid processed foods, and even be better parents while keeping your family fit.
Man Meat BBQ
If you want to learn how to grill better, check out the Man Meat BBQ. It features interviews with restaurant owners and chefs, so you'll get expert cooking advice. Even though the interviewees are professional, the podcast makes you feel like you're just learning from good friends.
Heads up: this podcast has a lot of cursing. But for some meat-eaters, that adds to the appeal. With this podcast, you'll start to feel more confident cooking for yourself and big groups. And that's always valuable to enjoy your carnivore diet to its fullest ability.
Single Episode Downloads
Lex Fridman and Anya Fernald
The Lex Fridman Show: Anya Fernald on Regenerative Farming and the Art of Cooking Meat. As founder and co-owner of the excellent Belcampo, Fernald has long been an outspoken advocate of healthier meats and a more sustainable food system. Belcampo uses regenerative techniques to make sustainable land-use the norm rather than the exception.
Heston's Ultimate BBQ
Heston Blumenthal, one of the UK's most celebrated chefs, shares his tips and tricks for barbecuing. You'll learn how to cook ribs the right way and avoid burning sausages and hamburgers. If you're looking to barbecue this summer, then you should consider the following tips from the expert.
Final Thoughts
Any of the following podcasts we've highlighted above would be great additions to your podcast line-up – especially if you're involved in the carnivore diet, or interested in it.
Check them out on Apple Podcasts, Google Podcasts, Stitcher, Spotify, or wherever you get your meat-filled shows.